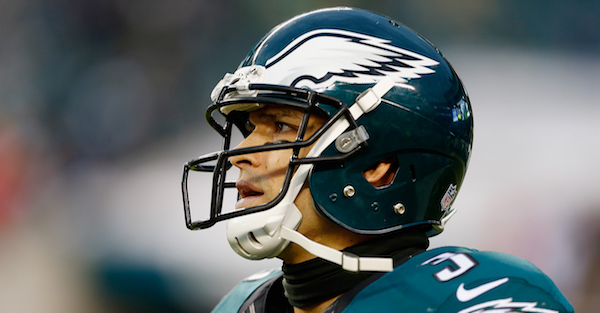 PHILADELPHIA, PA - NOVEMBER 22: Quarterback Mark Sanchez #3 of the Philadelphia Eagles reacts to throwing an interception in the fourth quarter against the Tampa Bay Buccaneers at Lincoln Financial Field on November 22, 2015 in Philadelphia, Pennsylvania. (Photo by Rich Schultz/Getty Images)
Mark Sanchez is going to get another opportunity to fight for the starting quarterback job after the Denver Broncos traded for him, sending a conditional draft selection to the Philadelphia Eagles.
With little faith that the Sanchize can get it done in Denver, could the Broncos turn to Tim Tebow?
Forget for a second that his name is Tim Tebow, that he's an ultra-religious quarterback with a flawed throwing motion. Now, just take a gander at the numbers.
Just last season, when Tebowmania hit Philly, the former Broncos quarterback completed 58 percent of his passes for 286 yards, two touchdowns and one interception for a 90 quarterback rating in the preseason. He also rushed for 82 yards and a score.
Sanchez completed 64 percent of his passes for 616 yards (on 91 attempts compared to Tebow's 36 attempts) for four touchdowns, four interceptions and an 80 quarterback rating during his preseason stint. Chip Kelly went with Sanchez over Tebow during roster cuts, despite the former Florida quarterback arguably having the better outings overall.
As if those numbers don't make up your mind, Tebow career-high touchdown percentage (percentage of passes thrown that go for touchdowns) of 6.1 and career average of 4.7 is better than Sanchez's (4.8 and 3.8) and potential starter Ryan Fitzpatrick (5.5 and 4.4), per Pro Football Reference.
Tebow's ability to game-manage from the pocket (which let's be honest, can't be much worse than Peyton Manning last season) and be a legitimate threat from the running game makes him an intriguing option for a Broncos team needing something (anything) at the quarterback position.
If Denver is bargain hunting at the quarterback position, and isn't willing to pay Fitzmagic the approximate $18 million he's looking for, maybe Tebow is the option. I'm not the first to suggest this, and likely won't be the last.
Will Tebow's career be remembered for the quick slant he completed to win a playoff game for the Broncos, or will John Elway give him another shot at NFL glory? Only time will tell.
Sanchez spent five years with the New York Jets, appeared in two AFC Championship games and has spent the past two seasons with the Eagles as a reserve. Fitzpatrick was the Jets starter last season and is a bit of a journeyman, spending time with six franchises.