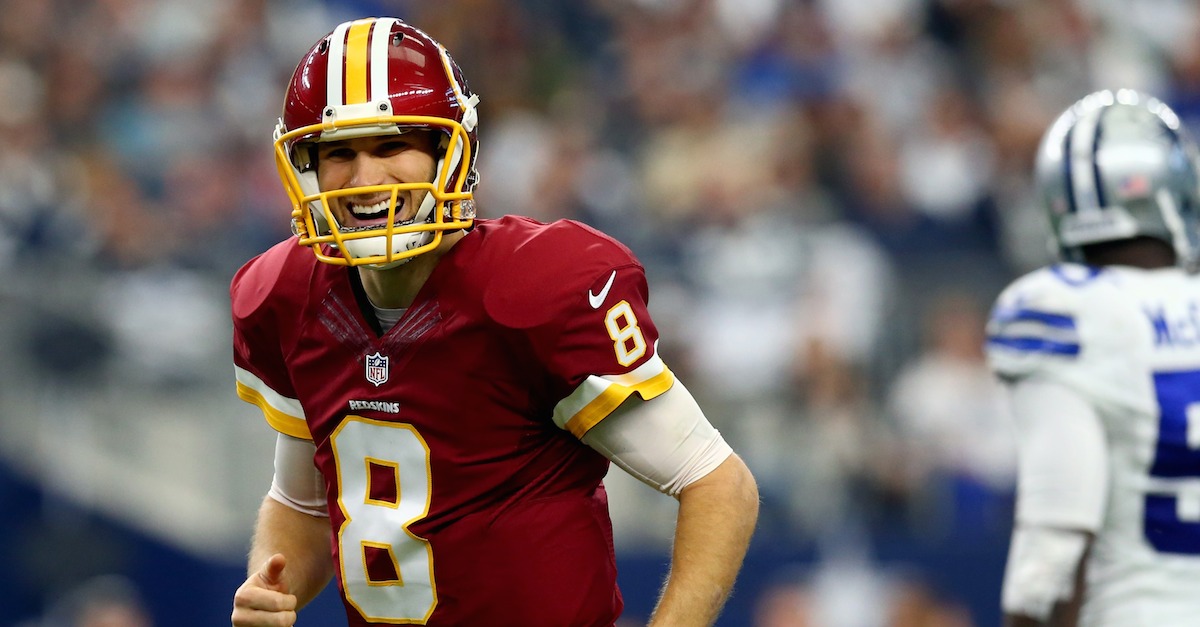 Ronald Martinez/Getty Images
ARLINGTON, TX - JANUARY 03: Kirk Cousins #8 of the Washington Redskins reacts after throwing a touchdown pass against the Dallas Cowboys during the first quarter at AT&T Stadium on January 3, 2016 in Arlington, Texas. (Photo by Ronald Martinez/Getty Images)
The Cleveland Browns may have just traded for one team's 2016-17 starting quarterback, but a new report suggests that the Browns are indeed considering making a serious push for Washington Redskins' quarterback Kirk Cousins.
Via ProFootballTalk:
"Per a league source, there's a growing belief in some circles that the Browns will try to acquire Cousins via trade. Another source said that, when Cousins chose to sign his franchise tender last week, the one concern he had is that, after the tender is signed, he can be traded. He specifically was concerned about being traded to Cleveland."
The ostensible rift between Cousins and Washington doesn't seem to be getting any better even though the former Michigan State Spartan signed his franchise tender locking him into at least one more year in D.C.
By signing his franchise tender, team president Bruce Allen can now start seriously entertaining the idea of trading Cousins — even to a team, like Cleveland, that Cousins reportedly isn't interested in getting traded to.
The quarterback situation in Cleveland may not be an ideal situation right now, especially with the arrival of former Houston Texans' quarterback Brock Osweiler, coming into the fold, but Cleveland has a lot of assets that may entice Allen and Redskins' owner Dan Snyder to part ways with Cousins in exchange for a Robert Griffin III-like trade package, should the Browns offer it.
Perhaps most notably, the Browns have two first-round picks in the upcoming NFL Draft.
Cousins may want to end up in San Francisco with new head coach Kyle Shanahan, but Cleveland may have the kind of trade chips that Washington would require to move on from their franchise quarterback.
Cousins signed a one-year contract contract with Washington for 2017 where he'll make just under $24 million this upcoming season.