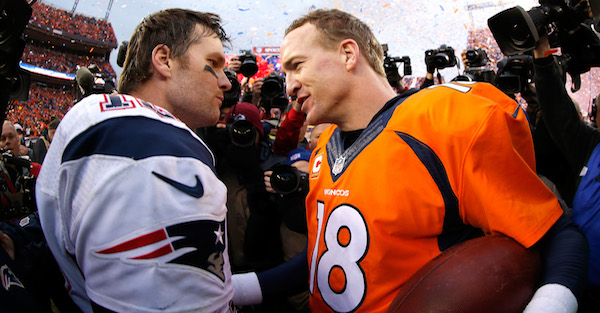 Ezra Shaw/Getty Images
DENVER, CO - JANUARY 24: Peyton Manning #18 of the Denver Broncos and Tom Brady #12 of the New England Patriots speak after the AFC Championship game at Sports Authority Field at Mile High on January 24, 2016 in Denver, Colorado. The Broncos defeated the Patriots 20-18. (Photo by Ezra Shaw/Getty Images)
There's a long way to go before Dak Prescott vs. Carson Wentz becomes the next Tom Brady-Peyton Manning quarterback rivalry.
But the two rookies are well on their way to taking the torch. Both have overperformed in leading their clubs to first and second place in the NFC East, respectively. The two have combined to go 9-3, thrown 15 touchdowns to two interceptions, and are both on the precipice of some notable team rookie records. With one more touchdown pass, Wentz will leapfrog Donovan McNabb and his rookie record of eight touchdown passes, and Prescott needs just three more touchdown passes to overtake Troy Aikman's rookie record of nine.
RELATED: NFL investigating Ezekiel Elliott domestic violence allegations
The duo is also among the league's most efficient passers. Prescott currently has the highest passer rating of any rookie in league history with at least six starts, and Wentz's 92.7 rating currently ranks him sixth all-time behind Dan Marino.
Still, it's a bit early to compare the two intrepid freshman to arguably the two best quarterbacks to ever play the game. But just ahead of their first-ever meeting Sunday, it couldn't be more appropriate to at least pretend we're witnessing the beginnings of the next great quarterback rivalry.