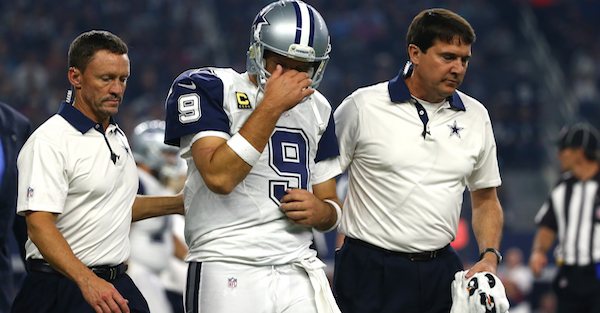 Tom Pennington/Getty Images
ARLINGTON, TX - NOVEMBER 26: Tony Romo #9 of the Dallas Cowboys is lead to the sidelines by team officials after being sacked by the Carolina Panthers in the third quarter at AT&T Stadium on November 26, 2015 in Arlington, Texas. Romo left the field following the play. (Photo by Tom Pennington/Getty Images)
A meeting is coming, that much is for sure.
Dallas Cowboys executive vice president Stephen Jones made it clear that owner Jerry Jones will meet with Tony Romo sooner rather than later, and it certainly sounds like veteran quarterback will soon be shown the door.
"Yeah, I would say it's going to come," he said, via the team website. "I think Jerry's going to be due to meet with him sooner than later. But I would say there's a definitive meeting set as of yet."
While Stephen Jones made it clear Jerry Jones will be the one to comment on Romo and his $24 million cap hit for the upcoming season, he also discussed the quarterback in almost a reflective sort of way.
"What he's done for this franchise just speaks volumes for what he means to the Dallas Cowboys, to the organization, to our family," he said. "I mean, this guy has played tremendous football. He's given us big seasons, and we're all – I think Jerry said it best: Unfortunately, that's one of our biggest regrets right now, is we haven't been able to put a team around Tony, when he's healthy, that he could win a Super Bowl."
If Romo does hit the open market, he's expected to be wooed by plenty of fringe contenders including the Denver Broncos, Houston Texans and Kansas City Chiefs.
Romo hasn't played in all 16 games since 2012. He's played in a combined five games the last two seasons.
The veteran has thrown for more than 34,000 yards over his 13-year NFL career.
He's a four-time Pro Bowler with six playoff appearances.
Four teams reportedly interested
Four teams have reportedly emerged as frontrunners for the quarterback's services, per CBS Sports.
"The Cowboys will listen to offers for Tony Romo, sources said, once owner Jerry Jones has his meeting with the Pro Bowl quarterback. Romo prefers to be moved to a contending team — specifically, the Texans, Cardinals, Broncos or Chiefs. The Bills also have significant interest in Romo, team and league sources said, though they realize that it might be a tough sell."
Reports from the Broncos camp have noted Denver would only be interested in Romo if he were a free agent, as they've got 2016 first-round pick Paxton Lynch and former starter Trevor Siemian still on the roster.
Houston Texans say no to early reports on Romo
Houston Texans owner Bob McNair previously told the Houston Chronicle that the team needs "better performance out of the (quarterback) position." He noted that Osweiler, his $72 million bust, will compete with Tom Savage for the starting job, and the Texans will look to bring in a young quarterback in the draft.
No mention of Romo, which is interesting since Houston was one of the teams mentioned as a possible landing spot. Romo seems to have eyes for Denver Broncos anyway.
Moving on from Osweiler makes perfect sense — even if it will be expensive. He was one of the leagues worst quarterbacks last season, and his 72.2 QBR was second worst in the league, ahead of only Ryan Fitzpatrick. Osweiler was benched last season in favor of Savage, who makes, literally, one percent of his salary (Savage makes $300K).
Still, because of the way Houston structured Osweiler's contract, the team can cut him after the 2017 season and take a $6 million hit in 2018 and $3 million in 2019, based on numbers by overthecap.com.)