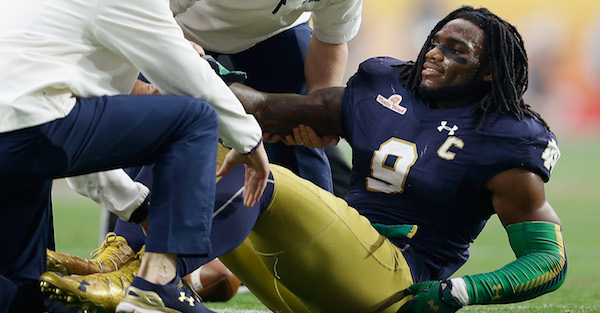 GLENDALE, AZ - JANUARY 01: Linebacker Jaylon Smith #9 of the Notre Dame Fighting Irish lays on the field after an injury during the first quarter of the BattleFrog Fiesta Bowl against the Ohio State Buckeyes at University of Phoenix Stadium on January 1, 2016 in Glendale, Arizona. The Buckeyes defeated the Fighting Irish 44-28. (Photo by Christian Petersen/Getty Images)
The Dallas Cowboys snagged Jaylon Smith at the top of the second round with the understanding he had nerve damage stemming from an ACL/LCL tear in Notre Dame's Fiesta Bowl loss.
Related: Notre Dame LB Jaylon Smith is lifting an absurd amount of weight on injured knee
Nothing has changed in the two months since Smith was drafted, with "no significant progress" made.
The doctor who did Smith's surgery is the Cowboys team physician, and the NFC East contender made a bit of a shocker in snagging Smith, but was thought to have inside knowledge on his recovery.
Thought to be a top-five pick, Smith's stock fell after reports that the linebacker suffered from nerve damage emerged.
Before the draft, Shutdown Corner questioned whether Smith could go down the Marcus Lattimore route, where he works and works to get back on the field before eventually deciding it's not worth the effort to keep pushing to get back to a place he might never be able to.
That's a fair question, and while it's early to be thinking about his long-term success in Year 1, it's tough not to wonder if he can progress enough to get back on the field. No "significant progress" doesn't mean no progress at all, so there's certainly hope for the Cowboys faithful.
We'll keep an eye on his recovery as the year progresses.