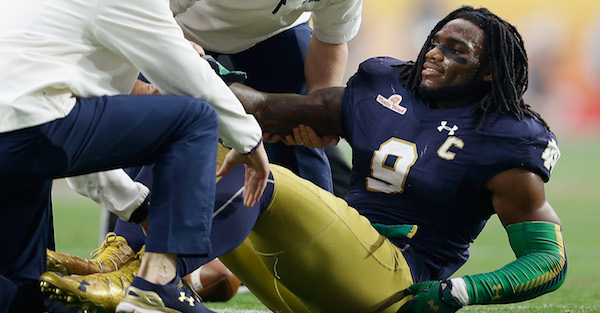 Christian Petersen/Getty Images
GLENDALE, AZ - JANUARY 01: Linebacker Jaylon Smith #9 of the Notre Dame Fighting Irish lays on the field after an injury during the first quarter of the BattleFrog Fiesta Bowl against the Ohio State Buckeyes at University of Phoenix Stadium on January 1, 2016 in Glendale, Arizona. The Buckeyes defeated the Fighting Irish 44-28. (Photo by Christian Petersen/Getty Images)
Former Dallas Cowboys first-round pick Jaylon Smith is going to finally make his Dallas Cowboys debut, barring any unforeseen setbacks, in the Cowboys' opener against the New York Giants.
Smith revealed the news after Cowboys' owner Jerry Jones opened up earlier about Smith's progress and long-term prognosis.
Dallas Cowboys beat writer Jon Machota reported Wednesday on the Smith revelation:
That's not all, as Machota also tweeted a video of a brief interview with Smith where the former Fighting Irish star seemed upbeat and excited about finally getting a chance to play.
Smith hasn't suited up for the Cowboys as of yet, and there is still several months between now and the regular season.
Still, it's nice to hear that Smith is improving and Cowboys fans will have finally have the opportunity of seeing what Smith can do for Dallas's defense in 2017.
[h/t 247sports]