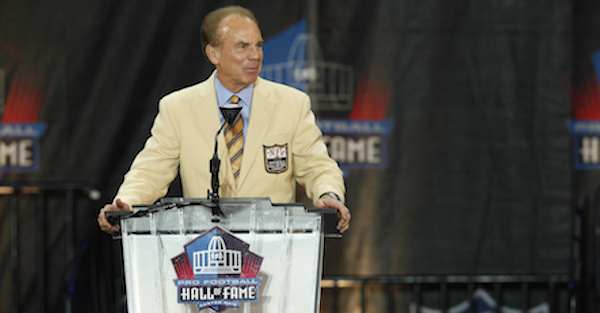 Joe Robbins/Getty Images
CANTON, OH - AUGUST 8: Former Dallas Cowboys quarterback Roger Staubach speaks about former teammate Bob Hayes Sr. at his induction into the Pro Football Hall of Fame during the 2009 enshrinement ceremony at Fawcett Stadium on August 8, 2009 in Canton, Ohio. (Photo by Joe Robbins/Getty Images) *** Local Caption *** Roger Staubach
Roger Staubach says he knows well what the Cowboys are saddled with right now in deciding who to go with at quarterback once Tony Romo returns from injury.
The former Hall of Fame quarterback lived out the exact same scenario when he was Dallas's starter in 1972 and was sidelined by a shoulder injury for a good chunk of the season, leading to backup Craig Morton stepping in—and winning.
Staubach argues that the best play for the Cowboys right now is to ride out the hot hand of rookie Dak Prescott.
?Tony is a fantastic football player,? Staubach told the Dallas Morning News. ?We won the Super Bowl in 1971 and I separated my shoulder in the exhibition season of ?72, and Craig Morton was the quarterback and took over and when I came back healthy probably eight or nine games later ? that was a 14-game schedule ? Craig was winning. We were winning as a team. I understood it. The momentum was there and you don?t want to mess around with the quarterback position and Craig was playing very well. I didn?t really play very much until the playoff game against the 49ers that year and I understood it.?
Staubach added that he understands Romo wanting to play, but winning is the bigger picture and should supersede all else.
?Tony is going to heal. He?s going to be ready to play if they need him if something happens to Dak. I think Tony wants to win and he?ll do what it takes to win and if they keep Dak in there to keep the momentum going I think he?ll understand that…they?re 4-1. You just don?t mess around with that. You try to keep it really good and keep the momentum going.?
RELATED: Former All-Pro defensive end pitching pitching comeback following cocaine arrest
Roger the Dodger, as Staubach was known is his playing days for his ability to scramble, sees this parallel between his 1972 season and Dallas's current situation: The Cowboys used Staubach sparingly when he came back and didn't commit to him fully until they really needed him.
And the strategy paid off. With Dallas trailing the 49ers 28-13 in the divisional round of the playoffs, Staubach replaced Morton and led the Cowboys to a dramatic come from behind 30-28 victory with three fourth quarter touchdowns.