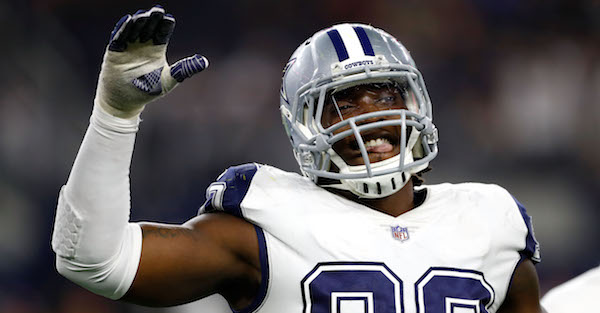 Wesley Hitt/Getty Images
ARLINGTON, TX - NOVEMBER 30: DeMarcus Lawrence #90 of the Dallas Cowboys reacts after a 38-14 win over the Washington Redskins at AT&T Stadium on November 30, 2017 in Arlington, Texas. (Photo by Wesley Hitt/Getty Images)
Dallas Cowboys defensive lineman DeMarcus Lawrence is coming off of the best season of his career, and he's looking for a long term deal with the franchise.
The Cowboys have the option of placing the franchise tag on him for next season, but David Moore of the Dallas Morning News reported that the team has decided not to place the tag on him… for now.
The team is hoping to work out a long term contract with Lawrence, and they have until July 16 to work out the deal. Otherwise, they will either franchise tag him or let him walk.
Lawrence recorded 14.5 sacks last season ? his fourth season in the league ? and he's only 25. But there are some concerns with signing him to a long term deal.
According to Sportsnaut, Lawrence has already had two back surgeries. For someone that's 6'3, 250 pounds, two back surgeries is a major concern.
He was also suspended in 2016 for failing a drug test.
It's a complicated situation for the Cowboys, but they can't afford to lose his production on the defensive line. It's a situation worth monitoring as free agency begins in the NFL.