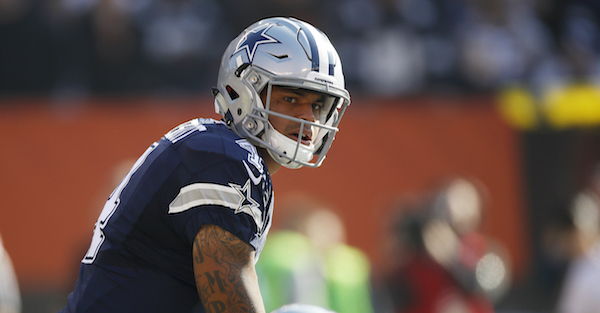 Gregory Shamus/Getty Images
CLEVELAND, OH - NOVEMBER 06: Dak Prescott #4 of the Dallas Cowboys under center in the first half against the Cleveland Browns at FirstEnergy Stadium on November 6, 2016 in Cleveland, Ohio. (Photo by Gregory Shamus/Getty Images)
The Dallas Cowboys turned a corner last season, and a large part of that was the arrival and play of rookie quarterback Dak Prescott. The former Mississippi State Bulldog played like an elite quarterback, but, because he was a fourth-round pick, wasn't paid like one.
Although Prescott didn't get a new contract this offseason, the NFL did deliver performance-based pay for all its players that met the contractual requirements and Prescott led offensive players in this system.
Like the Seattle Seahawks did with Russell Wilson, the Cowboys would be wise to avoid giving Prescott a huge deal for as long as they can. Even though Prescott exceeded expectations in Year 1 for the Cowboys and now finds himself as the franchise quarterback of the future, these performance-based bonuses of sorts will have to do until he gets a new contract.
If Prescott builds off his rookie season, he will certainly get a very nice contract in the not-too-distant future.
Prescott was named AP Offensive Rookie of the Year for the 2016-17 season.