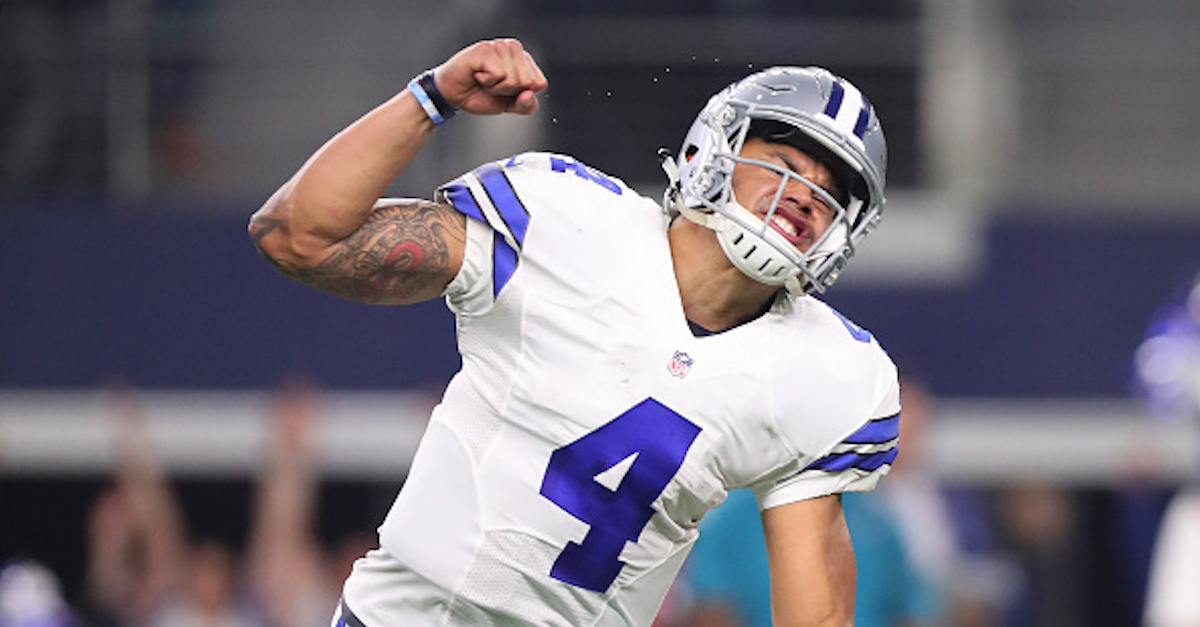 Tom Pennington/Getty Images
ARLINGTON, TX - JANUARY 15: Dak Prescott #4 of the Dallas Cowboys celebrates after throwing a touchdown pass during the fourth quarter against the Green Bay Packers in the NFC Divisional Playoff game at AT&T Stadium on January 15, 2017 in Arlington, Texas. (Photo by Tom Pennington/Getty Images)
The 2017 Dallas Cowboys will likely be seen as a disappointment and with good reason. After all, the 2016 team zoomed to the playoffs with a real chance at a deep run and, with a 9-7 performance coming on the heels of that (even with the much-ballyhooed suspension of Ezekiel Elliott), it would be tough to argue that Jason Garrett's team produced up to the level of expectations.
With that said, there is no doubt as to which NFL franchise is "America's Team" and that is driven home by the NFLPA's release of the top 50 jerseys sold. In short, it was dominated by the Cowboys.
It comes as no real surprise that Dak Prescott would lead the way, simply because he is the quarterback of the Dallas Cowboys. Still, it wasn't as if Prescott played perfect football this season and, with Elliott landing at No. 3 amid all kinds of legal scrutiny, it is a reminder of the plain and simple power of the Cowboys brand.
The Cowboys may not be the front-runners to claim next year's Super Bowl and a 9-7 season could certainly repeat in a way that wouldn't satisfy anyone in Dallas. In the same breath, there is something to be said for franchise value and gravity and the Cowboys certainly have both.