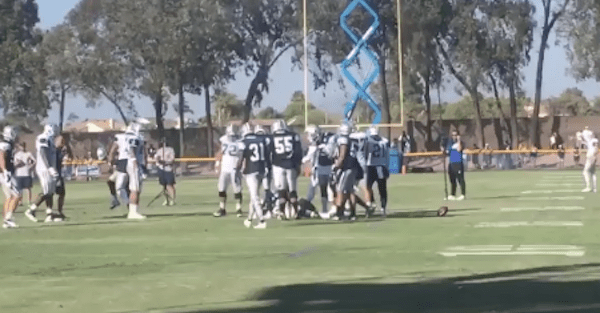 Twitter/@fishsports
Twitter/@fishsports
It has been a wild and generally perilous training camp for the Dallas Cowboys. On Tuesday night, the biggest news was, again, not positive for the club as defensive end Tyrone Crawford suffered what appeared to be a right ankle injury.
As noted above, Crawford's injury appeared to be sustained as he encountered running back Ezekiel Elliott. Moments later, Crawford had to be carted off the practice field as a result of the ailment.
The 27-year-old defensive lineman made 13 starts and compiled 4.5 sacks for the Cowboys in 2016. Crawford's career has been marred at times by injury but, in the same breath, he has been able to answer the bell to the tune of 12.5 sacks over the past three seasons and the loss of him would be troubling for the Dallas defense.
With the Cowboys already relatively shorthanded defensively, rookie pass rusher Taco Charlton would likely be elevated to a larger role if Crawford is forced to miss real time as a result of the injury. Until word breaks, though, that would be only an assumption and the Cowboys certainly have their collective fingers crossed about Crawford's injury status.