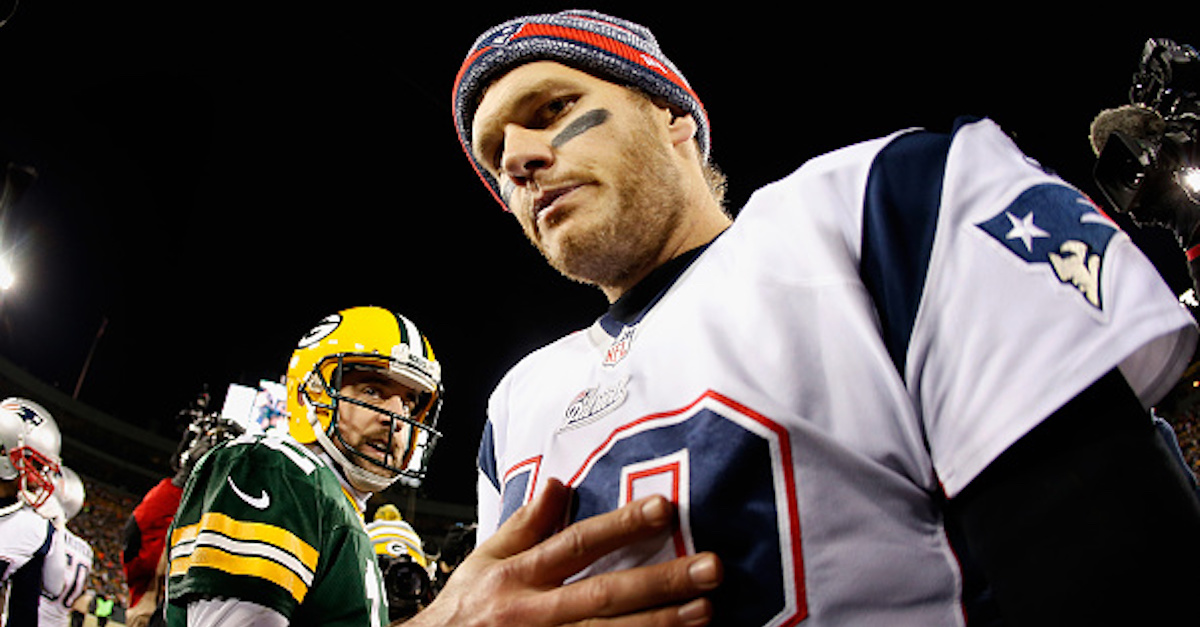 Christian Petersen/Getty Images
during the NFL game at Lambeau Field on November 30, 2014 in Green Bay, Wisconsin.
Dak Prescott is getting a ton of hype heading into his second year in the NFL. The Cowboys' quarterback had a stellar 2016 season, winning the Pepsi Rookie of the Year award, and many people "in the know" among NFL circles are expecting some big things from him in 2017 and beyond.
You can add one anonymous NFC Scout to the list of those who think Prescott is the real deal. This scout was talking to Mike Freeman of Bleacher Report, and apparently, he feels so confident in Prescott's abilities heading into 2017 that he sees him outplaying some of the game's best quarterbacks.
That list includes Aaron Rodgers of the Green Bay Packers and defending Super Bowl champion and certain Hall of Famer Tom Brady.
Here's what was said, per Freeman's 10-point stance column:
From an NFC scout: "This will be a tight MVP race. I think Prescott wins a close one."
Freeman went on to say that the scout's prediction seems a bit crazy, but he has hit on "a lot of these MVP races before."
From what it looks like if scouting football players ends up not working for this anonymous scout, becoming a sports writer or a television pundit may be in the cards. Not only did he predict that Prescott will win the NFL's MVP award in 2017, but he even threw down his predicted top five for the award.
Per Freeman:
His MVP rankings:

1. Prescott: "I can see him getting literally twice as good as he was last season. [He] still has that great offensive line."

2. Aaron Rodgers: "Will probably win it. I know. Or [Tom] Brady. Prescott just impresses me."

3. Tom Brady: "Insane to put him third, but I think voters will just get tired of him winning and want to give it to someone else."

4. Matt Ryan: "Always puts up big numbers."

5. Russell Wilson: "Big-time sleeper candidate."
Freeman went on to say that he would add Tampa Bay quarterback Jameis Winston to the mix, who could be nearing top ten status if he gets his turnovers down, but the big story here is Prescott.
Offseason hype is a normal thing. We need something to get us through the long, hot days of the summer, after all.
Hype is normal, but Prescott is receiving some major hype. People are talking about him like he's a future Hall of Famer, and considering the season he just had for Dallas — it makes sense why people are so high on him. From Rookie of the Year to MVP isn't a jump that's out of this world. It's actually something that Prescott could accomplish.
Rodgers, Brady and even Ryan may have something to say about that, though, and that's something that has to be considered.
Prescott is good, but they have a history of being better.