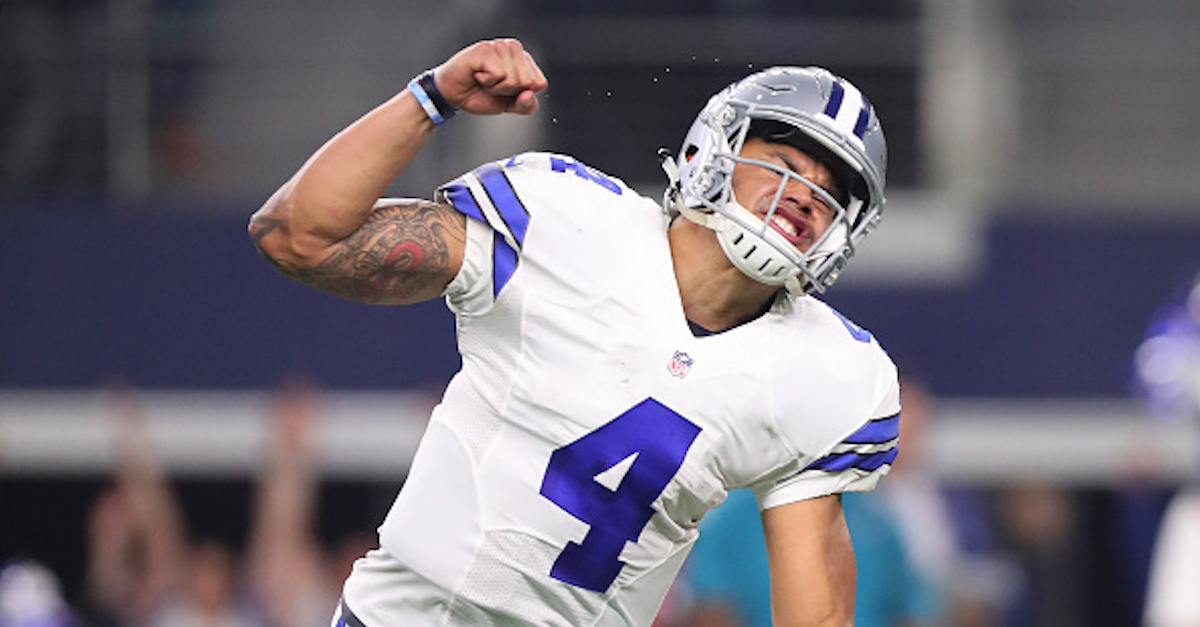 Tom Pennington/Getty Images
ARLINGTON, TX - JANUARY 15: Dak Prescott #4 of the Dallas Cowboys celebrates after throwing a touchdown pass during the fourth quarter against the Green Bay Packers in the NFC Divisional Playoff game at AT&T Stadium on January 15, 2017 in Arlington, Texas. (Photo by Tom Pennington/Getty Images)
Dak Prescott is receiving a ton of hype heading into his second season in the NFL, and the Cowboys' starting quarterback may very well be deserving of all of it.
Prescott took over for an injured Tony Romo and started all 16 games last season for Dallas, leading the Cowboys to a 13-3 record and the top seed in the NFC Playoffs. They were ousted by the Green Bay Packers in their first playoff game, but that didn't take away from all Prescott accomplished in 2016. He was poised beyond his years and one of the most efficient quarterbacks in the NFL.
He threw for 3,667 yards and 23 touchdowns while only tossing four interceptions. Prescott was also dangerous on the ground, rushing 57 times for 282 yards and six touchdowns.
Prescott's play was at such a high level that he lucky enough to receive comparisons to NFL Hall of Famer Warren Moon, by someone who knows quite a bit about Hall of Fame play. Even more recently, another Hall of Famer, Charles Haley, relayed that he can see another all-time great quarterback in Prescott's play.
Sports anchor Newy Scruggs was talking to Haley about Prescott and here's what he had to say:
I was so impressed when Dak Prescott told the media last year at training camp after Tony Romo's backup Kellen Moore went down with a season-ending injury that he always prepared himself like he was a starter. He had a mentality that told me he was never treating himself like a backup quarterback. Prescott has a confidence that is just next-level. I spoke with Charles Haley a few weeks ago. The Pro Football Hall of Famer was at an event for fellow HOF member Mean Joe Greene and I asked Haley if Prescott had any traits with any of the Hall of Fame quarterbacks he played with. Keep in mind, Haley was teammates with Joe Montana, Steve Young and Troy Aikman. That trio won a combined eight Super Bowls. Haley told me Dak reminded him of Joe Montana. That is high praise. He said both men have a confidence that allows them to win games. Dak's self-confidence translates to his teammates and I like that about him very much.
Confidence is certainly the first thing that comes to mind when thinking about Prescott. A fourth-round draft pick out of Mississippi State, he was far from one of the bigger names in the 2016 NFL Draft. With that said, he took over the reigns for Dallas and played at such a high level that it essentially pushed Tony Romo into retirement once he got healthy. Prescott was too good, and too poised for the Cowboys, so much so that it didn't make any sense for them to go back to Romo.
Heading into 2017, with an offseason of NFL training, film study, and experience under his belt, expect Prescott to be even better. Will he eventually be as good as Joe Montana? Unfortunately, that's a question that will take a long time to answer.
His hot start in the NFL, talent, and confidence all make that possible, though.
Some of the greats that have played this game certainly seem to think he's on their level, and that's worth noting.