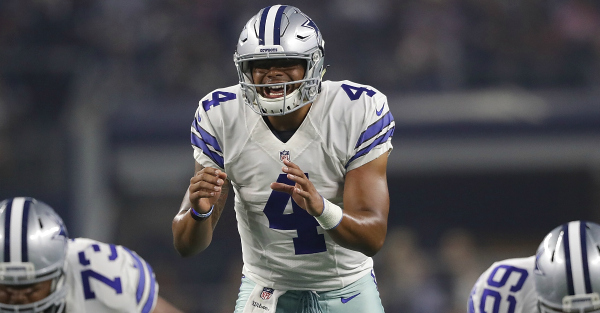 Ronald Martinez/Getty Images
at AT&T Stadium on August 19, 2016 in Arlington, Texas.
It's a little early in the game to be mentioning Dak Prescott and Tom Brady in the same breath.
But according to Dallas Cowboys executive vice president Stepehen Jones, the team's trainer, Mike Woicik is doing just that. Unfortunately for Prescott, he's not exactly referring to Brady's on the field prowess.
"I know Mike Woicik, our trainer, said, 'Hey, I don't decide how they play on the football field, I just try to get them prepared and see how they interact with the team,'" Jones said Tuesday on SiriusXM NFL Radio's Movin' The Chains show. "And I want you to take this for what it is, but he said, 'Obviously, I'm not saying he's Tom Brady on the field, but off the field, he certainly has a lot of his qualities.'"
Jones said that was enough for the two to start fully believing in Prescott, and putting all their resources into developing him.
"So that was something from the get-go that we just said, 'Hey, we may have something here, let's see how it translates on the field.' He has an insatiable appetite to learn football," Jones said. "Football's the most important thing to him. It's real important to him that he has success. He's put down his social life, he's put down endorsements, he puts down things that a lot of these young people like to do, and he's totally one hundred percent focused."
RELATED: The Cowboys now have a very difficult decision that would alter their entire season
And it's a good thing. With Tony Romo out six to 10 weeks with a fractured vertebra in his lower back, things just got really serious for Prescott.
It'll be interesting to see if he can maintain a high level of play unabated by the pressures of being Dallas' star quarterback in the league, now that he's likely their starter.