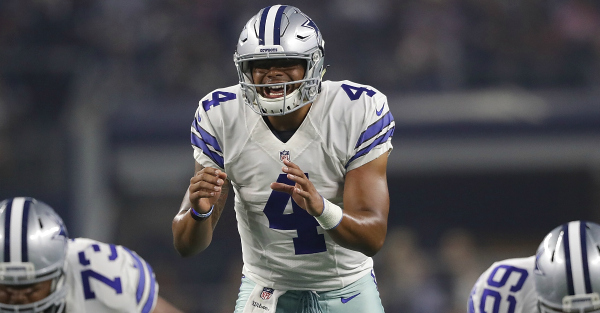 Ronald Martinez/Getty Images
at AT&T Stadium on August 19, 2016 in Arlington, Texas.
Dak Prescott thinks Tom Brady and the New England Patriots will win their fifth Super Bowl on Sunday against the Atlanta Falcons, and he said Brady is almost unbeatable.
Related: Dez Bryant shows the Patriots no respect, says only one team "had a shot to beat" the Falcons 
While at the Pro Bowl on Sunday, Prescott said "you can't beat him," in reference to Brady, but quickly clarified and added, "except me."
Prescott also said he believes the Dallas Cowboys have good things ahead.
"We'll make another run," Prescott said. "We plan to make a run every year."
Prescott had one of the best rookie seasons of any quarterback since Tom Brady in 2001. He and fellow rookie Ezekiel Elliott led the Cowboys to a 13-3 record, and Prescott threw for 3,667 yards, 23 touchdowns and he completed 67.8 percent of his passes. His Cowboys fell 34-31 to the Green Bay Packers in the divisional round of the playoffs.
(h/t 247Sports)