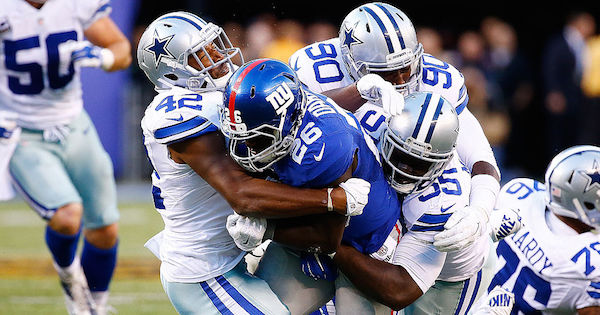 Al Bello/Getty Images
EAST RUTHERFORD, NJ - OCTOBER 25: Orleans Darkwa #26 of the New York Giants is tackled by Barry Church #42, Demarcus Lawrence #90 and Rolando McClain #55 of the Dallas Cowboys during the first quarter at MetLife Stadium on October 25, 2015 in East Rutherford, New Jersey. (Photo by Al Bello/Getty Images)
While speaking with reporters at the Senior Bowl, Dallas Cowboys executive vice president Stephen Jones said that re-signing defensive end DeMarcus Lawrence would be a top priority, despite having not yet begun negotiations with the Pro Bowler.
But apparently that's fine with Lawrence, who is just going to let the process happen.
"It's great for them to prioritize me as being a Cowboy," Lawrence told media members at the Pro Bowl this week via ESPN. "I'm not worried about it. I'm gonna let my agent worry about that part. … I believe and trust in him 100 percent to get the job done."
Lawrence's agent, David Canter, is also at the Pro Bowl this week, but expects to begin talks with the Cowboys soon. Canter has already planned to meet with the franchise during the NFL combine, which begins on Feb. 28.
The NFL's tampering period will begin on March 12 and end during the official beginning of free agency on March 14 at 4 p.m. ET.
"I would imagine that they're probably not just letting us get to free agency and leave Dallas," said Canter, who indicated that he has a good working relationship with the Cowboys' front office and expects conversations to be friendly."

"It's really up to them to want to do a deal that's in line with what the market is for a young, ascending, elite franchise-caliber defensive end," Canter said. "Whatever that number ends up being remains to be seen. But I do imagine and believe that we'll have multiple conversations over the next month or so. I think it's early right now."
Lawrence recorded 14.5 sacks, which tied Jacksonville's Calais Campbell for second among NFL players and was the highest by a Dallas player since DeMarcus Ware in 2011. He also recorded 27 quarterback hits, which tied Rams defensive tackle Aaron Donald for the fifth in the league.
Earlier this week, Jones told the Fort Worth Star Telegram "that the only reason you use a franchise tag is to hopefully protect yourself if you can't get a long-term deal signed that you like" and that the team intended to get a long-term deal done.
"Certainly, we're going to roll up our sleeves and see if we can do something with DeMarcus without having a franchise tag," he added.
Either way, Lawrence is expected to receive a big payday after a career season.