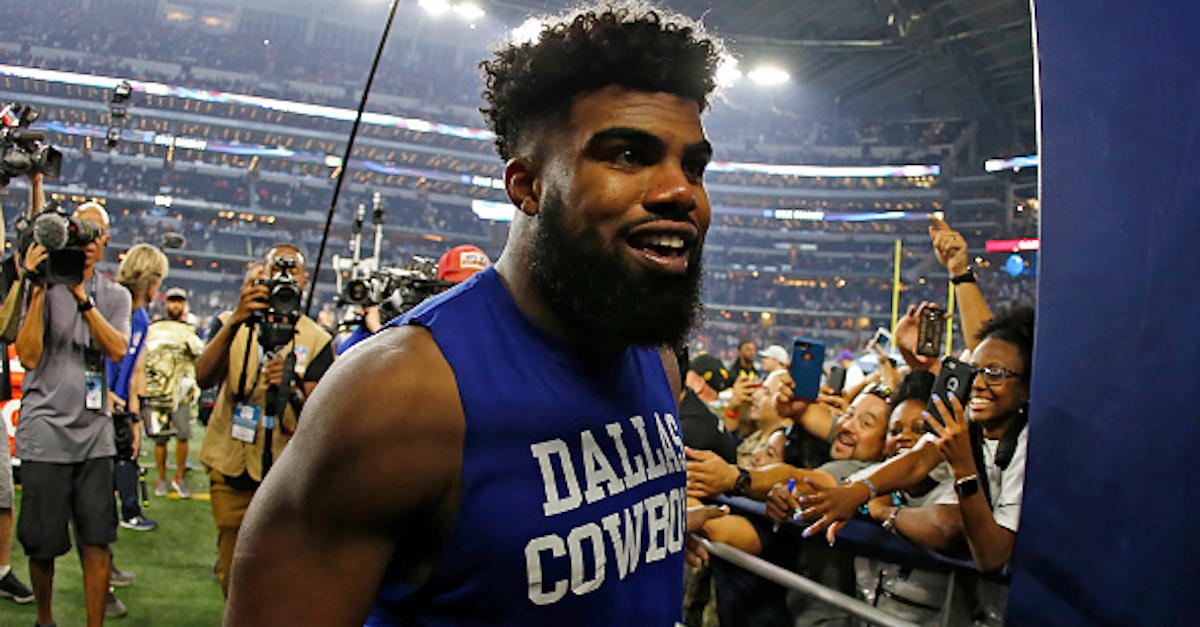 Ron Jenkins/Getty Images
ARLINGTON, TX - NOVEMBER 5: Ezekiel Elliott #21 of the Dallas Cowboys celebrates with fans following the Cowboys 28-17 win over the Kansas City Chiefs at AT&T Stadium on November 5, 2017 in Arlington, Texas. (Photo by Ron Jenkins/Getty Images)
Between domestic violence allegations and fighting an NFL suspension, Ezekiel Elliott did not have much time in 2017 to establish himself as one of football top running backs like he had in 2016.
Dallas Cowboys CEO and executive vice president Stephen Jones — son of owner Jerry Jones — is hoping that the accusations against Elliott are just a blip on his football career, as Jones apparently believes that Elliott has the potential to be one of the greatest to ever play the game… if he can stay on the field, that is.
Stephen Jones said there's no extra monitoring of Ezekiel Elliott off the field during this offseason: "You can only do so much. These are grown men. … If he's able to stay on the field, we all know he can be one of the greatest to ever play the game."
Elliott has proven he can be a game-changing running back when he's in the game, so it's not a complete surprise that Jones has confidence in one of his young talents. However, it appears that Jones and the Cowboys are making one thing clear to Elliott: the team is not responsible for Elliott's off the field activities, and Elliott is going to have to keep himself out of trouble in the future.
Elliott was suspended six games in the 2017 season for domestic violence allegations made against him in 2016. While Elliott was not charged in any domestic violence incident, NFL commissioner Roger Goodell has the power to suspend players under the league's personal conduct policy.
Elliott had appealed his suspension to the courts, much in the same manner that New England Patriots quarterback Tom Brady did during the DeflateGate scandal. Elliott's appeal was initially denied, but Elliott was able to get his suspension put on stay multiple times before eventually serving the six games.
Elliott was drafted with the No. 4 overall pick by the Cowboys in the 2016 Draft after a standout career at Ohio State. Elliott was eventually named first-team All-Pro after rushing for 1,631 yards and 15 touchdowns in his rookie year. Elliott only played in 10 games in 2017 due to his suspension, where he still rushed for 983 yards and seven scores.