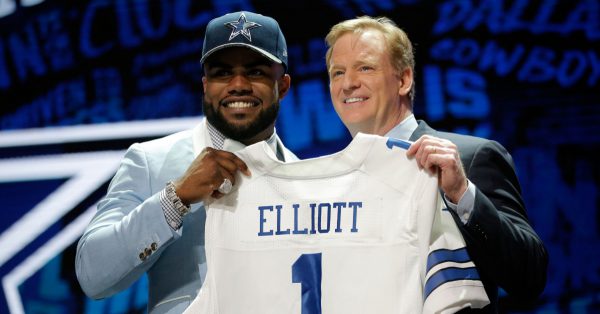 Jon Durr/Getty Images
CHICAGO, IL - APRIL 28: (L-R) Ezekiel Elliott of Ohio State holds up a jersey with NFL Commissioner Roger Goodell after being picked #4 overall by the Dallas Cowboys during the first round of the 2016 NFL Draft at the Auditorium Theatre of Roosevelt University on April 28, 2016 in Chicago, Illinois. (Photo by Jon Durr/Getty Images)
The Dallas Cowboys are among the favorites to host the 2018 NFL Draft, but their bid to serve as hosts could be thwarted long before the NFL makes a decision on a host city.
According to the Dallas Morning News, the Cowboys could be passed over due to the proposed Texas bathroom bill.
The proposed bill states that people can only use the bathroom that matches with the sex on their birth certificate. North Carolina passed a similar bill in 2016, which caused the state to lose the NBA All-Star Game, ACC Championship Game, and NCAA tournament games due to backlash from those respective organizations. The state of North Carolina eventually repealed the bathroom ban.
The state of Texas begins a special session on July 18 to determine whether to pass the bill, The NFL will decide where to host the draft later this summer or early in the fall.
The NFL has already spoken out against the proposed bathroom bill. NFL vice president of communications Brian McCarthy released a statement earlier in 2017 about the proposed bill on behalf of the league.
"If a proposal that is discriminatory or inconsistent with our values were to become law there, that would certainly be a factor considered when thinking about awarding future events," McCarthy said.
Related: Texas? governor rips the NFL, tells it to butt out and learn its place in the state?s ?Bathroom Bill? debate
"Future events" could mean anything from the Super Bowl?which was held in Houston in 2017?or the NFL Draft. The Cowboys are rumored to be the favorites to host the draft in the spring of 2018, but it won't happen if Texas lawmakers pass the bathroom bill.
The Cowboys would host the first two days of the draft at AT&T Stadium, and they would host the third day at The Star. Out of 22 proposals to host the draft, the Cowboys had the only one that was split into two different sites.
Regardless of the Cowboys' proposal, the NFL will ultimately decide where to host the draft. If Texas does pass the bill, it's quite possible the state loses out on future Super Bowls as well.
(h/t Dallas Morning News)