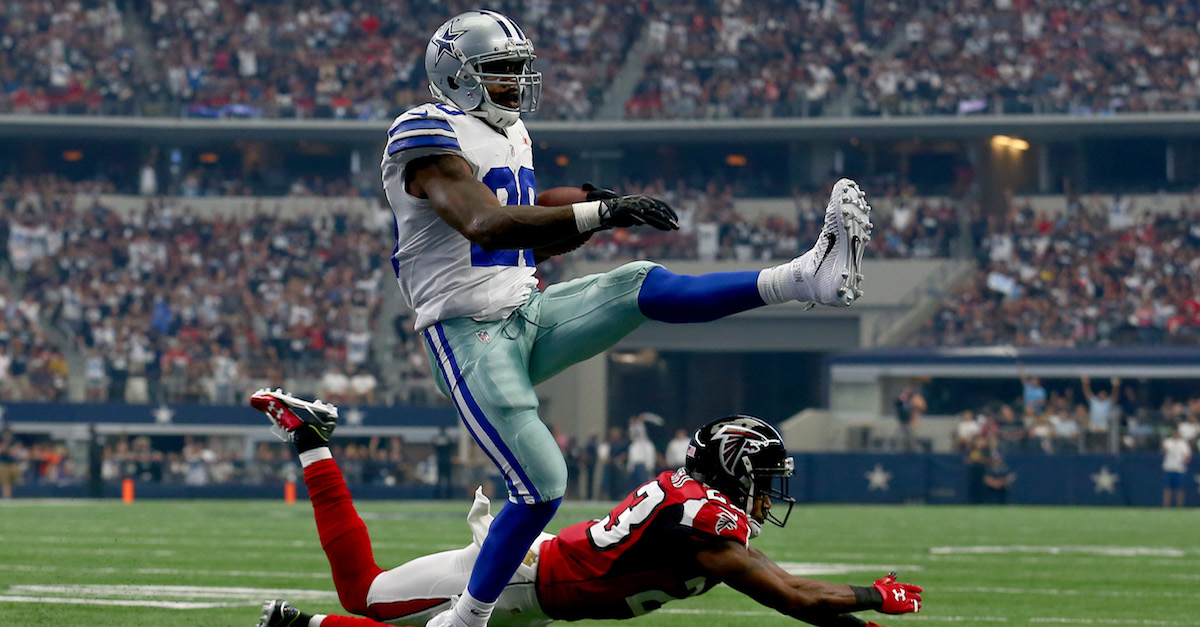 Tom Pennington/Getty Images
ARLINGTON, TX - SEPTEMBER 27: Darren McFadden #20 of the Dallas Cowboys scores a touchdown as Robert Alford #23 of the Atlanta Falcons defends in the second quarter at AT&T Stadium on September 27, 2015 in Arlington, Texas. (Photo by Tom Pennington/Getty Images)
Former No. 4 overall pick, running back Darren McFadden has been waived by the Dallas Cowboys.
With Ezekiel Elliott's suspension, McFadden was thought to get a fair shake and winning the job and helping Dallas' offense flow. That hasn't been the case, as McFadden has played in just one game this season, rushing the ball once for -2 yards.
In three games since Elliott's suspension, the Cowboys have rushed for 107, 112 and 79 yards, respectively. The numbers are decent, but Dak Prescott's inability to get anything going has shown defenses are allowing Dallas to get what it wants on the ground, but nothing through the air. The Cowboys are 0-3 without Elliott this season.
Darren McFadden at Arkansas
In 38 games played for the Arkansas Razorbacks from 2005-2007, he rushed 785 times for 4,590 yards and 41 touchdowns. He also caught 46 passes for 365 yards and two touchdowns.
McFadden was the real deal for the Razorbacks, winning two All-American honors as well as two Doak Walker Awards, which is given out yearly to the best running back in college football. He rushed for over 100 yards in a game 22 times, even playing quarterback for Arkansas in the Wildcat formation. In fact, McFadden didn?t just rush the ball, he threw it as well. In three seasons, he completed 14-of-22 passes for 205 yards seven touchdowns and just one interception.
Oh, he also returned a kick for a touchdown in 2006.
He was a two-time Heisman Trophy runner up and one of the most dynamic players not just in SEC history, but college football history as well.
Darren McFadden with Oakland Raiders
McFadden stayed with the Raiders for the first seven years of his career, starting only five games in his rookie season and then seven in 2008. He notched 499 yards and four touchdowns in year one and 357 yards and a score in year two. He didn?t come out of the gate on fire as expected, but that was largely due to numerous injuries he suffered during his first two years in the league.
The 2010 season was McFadden?s breakout year, as he finally flashed his big play potential. He rushed 223 times for the Raiders that season, notching 1,157 yards and seven touchdowns. He also finally got involved in the passing game for Oakland, putting up 507 yards and three touchdowns on 47 receptions.
The McFadden of old was back in 2010, or at the very least it seemed like he was on his way towards recapturing that old Arkansas magic. He entered the 2011 season as one of the best running backs in the league and the start of the 2011 season seemed to prove that he had finally arrived.
In the season opener against the Denver Broncos, McFadden rushed 22 times for 150 yards. In Week 3 against the Jets, he rushed for a career high of 171 yards with two touchdowns. He scored again against the Cleveland Browns in Week 6, but that was his last touchdown of the season. McFadden was injured against Kansas City Chiefs in Week 7 and had to be shut down for the season.
An argument can be made that he never got back on track after that injury, at least while with the Raiders.
His highest yard total after 2010 was in 2012 when he rushed for 707 yards. His highest touchdown total outside of 2010 was five in 2013.
McFadden wasn?t a bust in Oakland, but he certainly never lived up to the expectations.
Darren McFadden with Dallas Cowboys
In 2015, McFadden signed a two-year deal with the Dallas Cowboys and got a new lease on his NFL life, and it showed. He came out of the gates firing, showing off a bit of that old magic that made him so great for the Razorbacks. He only notched three touchdowns for the Cowboys that season, but he did rush 239 times for 1,089 yards ? largely carrying the running load for Dallas.
He was good for the Cowboys, but obviously not good enough. Dallas drafted Ezekiel Elliott out of Ohio State with the fourth overall pick of the 2016 NFL draft and McFadden was relegated to backup status.