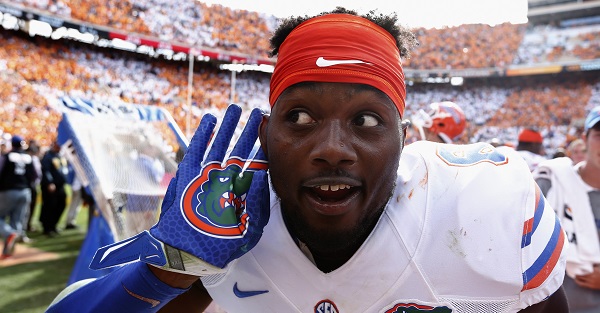 Joe Robbins/Getty Images
KNOXVILLE, TN - OCTOBER 4: Dante Fowler Jr. #6 of the Florida Gators gestures toward fans in the closing seconds of the game against the Tennessee Volunteers at Neyland Stadium on October 4, 2014 in Knoxville, Tennessee. Florida defeated Tennessee 10-9. (Photo by Joe Robbins/Getty Images)
After missing his entire rookie season with a torn ACL, Dante Fowler Jr. displayed some of the vast ability that made him the No. 3 overall pick in the 2015 NFL Draft. Unfortunately, Fowler Jr. returned to the headlines earlier this summer for less than ideal reasons and, now, the Jacksonville Jaguars defender is facing charges as a result of that incident.
News4Jax.com brings word that Fowler is being charged with three misdemeanors and they are battery, petty theft and criminal mischief. Fowler was arrested in mid-July and, at the time, the Tampa Bay Times described the situation as follows.
The arrest report said that Fowler was driving in the Trellis at the Lakes apartment complex Tuesday night around 6:30 p.m. when a man walking in the complex made a comment about his driving. Fowler got out of his car, exchanged words with the man, then ?hit the man, knocked his glasses off and stepped on them,? according to the report. He then ?took the victim?s grocery bag, with recently purchased liquor, and threw it in a lake,? according to the report, which said the victim was not injured.
Fowler then issued a public apology, saying the following:
"I could have taken the right approach but I took the wrong one and it won't happen again. It was an incident that I've learned from. I just have to realize the situation that I'm in and what's at stake. I have to be better."
To this point, there has been no specific NFL-based discipline for Fowler but Florida law dictates that misdemeanors can carry a punishment of up to one year in jail and Fowler has to have that in the back of his mind at this time. Updates will certainly be coming in the future, but for now we know that Dante Fowler Jr. is facing three charges.