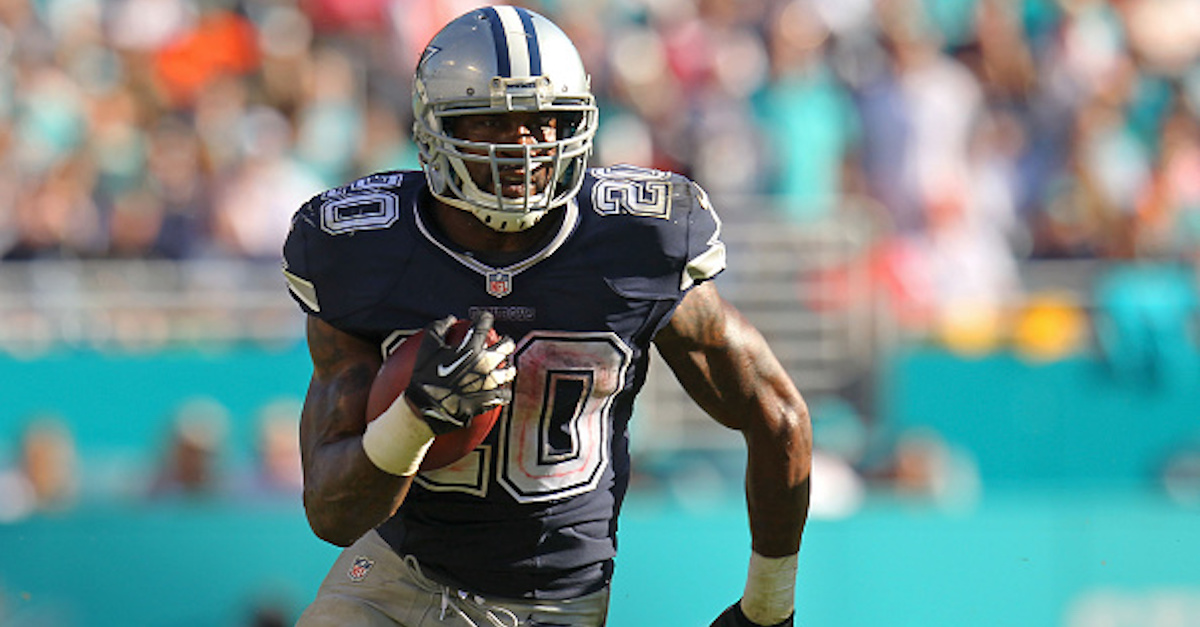 (Photo by Rob Foldy/Getty Images)
(Photo by Rob Foldy/Getty Images)
There was a point when Darren McFadden seemed like the next great running back entering the NFL.
In 38 games played for the Arkansas Razorbacks from 2005-2007, he rushed 785 times for 4,590 yards and 41 touchdowns. He also caught 46 passes for 365 yards and two touchdowns.
McFadden was the real deal for the Razorbacks, winning two All-American honors as well as two Doak Walker Awards, which is given out yearly to the best running back in college football. He rushed for over 100 yards in a game 22 times, even playing quarterback for Arkansas in the Wildcat formation. In fact, McFadden didn't just rush the ball, he threw it as well. In three seasons, he completed 14-of-22 passes for 205 yards seven touchdowns and just one interception.
Oh, he also returned a kick for a touchdown in 2006.
He was a two-time Heisman Trophy runner up and one of the most dynamic players not just in SEC history, but college football history as well.
So yeah, the expectations were pretty high when he joined the Oakland Raiders as the No. 4 overall pick of the 2008 NFL Draft.
Now, heading into his 10th NFL season, have those expectations been met?
McFadden stayed with the Raiders for the first seven years of his career, starting only five games in his rookie season and then seven in 2008. He notched 499 yards and four touchdowns in year one and 357 yards and a score in year two. He didn't come out of the gate on fire as expected, but that was largely due to numerous injuries he suffered during his first two years in the league.
The 2010 season was McFadden's breakout year, as he finally flashed his big play potential. He rushed 223 times for the Raiders that season, notching 1,157 yards and seven touchdowns. He also finally got involved in the passing game for Oakland, putting up 507 yards and three touchdowns on 47 receptions.
The McFadden of old was back in 2010, or at the very least it seemed like he was on his way towards recapturing that old Arkansas magic. He entered the 2011 season as one of the best running backs in the league and the start of the 2011 season seemed to prove that he had finally arrived.
In the season opener against the Denver Broncos, McFadden rushed 22 times for 150 yards. In Week 3 against the Jets, he rushed for a career high of 171 yards with two touchdowns. He scored again against the Cleveland Browns in Week 6, but that was his last touchdown of the season. McFadden was injured against Kansas City Chiefs in Week 7 and had to be shut down for the season.
An argument can be made that he never got back on track after that injury, at least while with the Raiders.
His highest yard total after 2010 was in 2012 when he rushed for 707 yards. His highest touchdown total outside of 2010 was five in 2013.
McFadden wasn't a bust in Oakland, but he certainly never lived up to the expectations.
A fresh start
In 2015, McFadden signed a two-year deal with the Dallas Cowboys and got a new lease on his NFL life, and it showed. He came out of the gates firing, showing off a bit of that old magic that made him so great for the Razorbacks. He only notched three touchdowns for the Cowboys that season, but he did rush 239 times for 1,089 yards — largely carrying the running load for Dallas.
He was good for the Cowboys, but obviously not good enough. Dallas drafted Ezekiel Elliott out of Ohio State with the fourth overall pick of the 2016 NFL draft and McFadden was relegated to backup status.
That was a move that worked out for the Cowboys, as Elliott went onto have a tremendous rookie season in Dallas, but that sentiment has changed quickly as of late, hasn't it?
Elliott has been suspended for the first six games of the 2017 season for breaking the NFL's personal conduct policy and even though he is expected to appeal that decision, that could actually drag the process out and make it even longer.
For all intents and purposes, Dallas has to go into 2017 expecting to be without Elliott, who was one of the best running backs in the game during his rookie season. And with that, the expectations are right back on McFadden.
He'll be a part of a stable of veteran backs, including Rod Smith, Alfred Morris, and Ronnie Hillman, but one gets the sense that if Dallas itself is to live up to expectations in 2017 — the Cowboys were considered Super Bowl hopefuls before the Elliott suspension — it could come down to whether or not McFadden can regain his old form.
That's asking a lot from a player who's entering his 10th NFL season at one of the most physically demanding spots in the game, but it's certainly not impossible.
First, McFadden has the benefit of a great offensive line to run behind. The Cowboys' offensive line has been one of the best in the game for the past few seasons and Elliott's rookie campaign was proof of that. Sure, he's talented on his own, but he wasn't the only person who could take credit for his 322 rushes for 1,631 yards and 15 touchdowns.
Dallas is big, tough and ready to get rough up front, and McFadden could be the direct beneficiary of that.
He'll also benefit from Dak Prescott being one year older in the league. The NFL's 2016 offensive rookie of the year enters this season with high expectations and at this point, there's really nothing out there to suggest that he can't live up to them. He's athletic — able to hurt a defense with both his arm and his legs — and he's poised beyond his years. Sure, Prescott may have benefited a bit from having Elliott behind him, but he should be able to make due with McFadden and whoever else will run the ball for Dallas, and if he's as good as people say he is — there shouldn't be much drop off.
Ultimately, though, this comes down to McFadden perhaps having his last best shot to live up to his full potential as an NFL player.
He went from one of the best in the game while at Arkansas to a player who struggled to live up to the hype in the top league in the land. That's not a storyline that's all too uncommon among top-tier college football players, but what makes McFadden different is that we've seen what he can do in the NFL when everything comes together.
He's not a bust. Far from it, in fact. He could never just get everything to line up perfectly like it did at Arkansas.
Except now, those stars may be aligning one more time.
Ironically, his last best chance may be right now in Dallas, where the stars align to form a big, iconic one right down on the center of the field at AT&T Stadium.