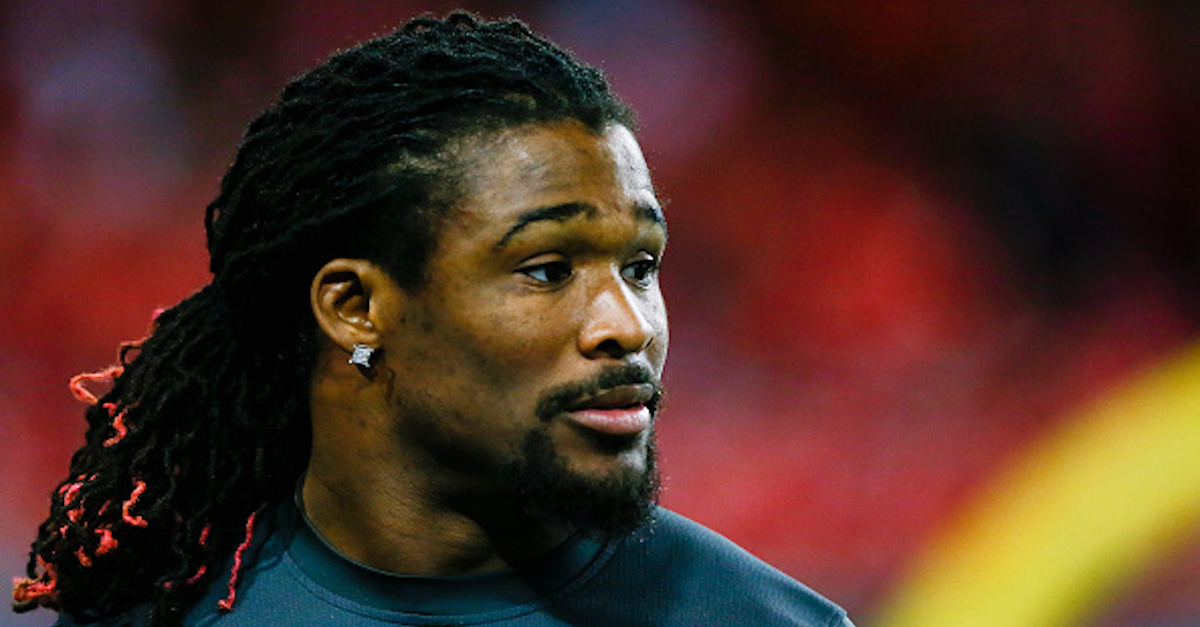 Kevin C. Cox/Getty Images
ATLANTA, GA - DECEMBER 28: DeAngelo Williams #34 of the Carolina Panthers stands on the field during warm ups prior to the game against the Atlanta Falcons at the Georgia Dome on December 28, 2014 in Atlanta, Georgia. (Photo by Kevin C. Cox/Getty Images)
Running back DeAngelo Williams has played 11 seasons of NFL football, and even at 5-foot-8, 210 pounds, he feels he still has something left to give for some lucky NFL team.
This is, of course, considering the fact that he can stay out of the squared circle, but that seems very likely considering that his pro wrestling career began with a flurry at Impact Wrestling's Slammiversary XV, but it ended with a face plant.
Williams told ESPN's Adam Schefter that his run in wrestling was a one-time deal and it fulfilled a promise he made to his late uncle, who was a big wrestling fan. He also told Schefter his plans now that he's a retired big-shot wrestler.
Basically, he's not ready to hang up those football cleats just yet. Here's how Kevin Patra of NFL.com transcribed it:
"I'm definitely playing football [this year]," Williams told Schefter. "I guess you could say I'm waiting on the phone call. I guess you could say that. I mean, not 'guess.' You can say that. I'm waiting on the phone call. With a GM, or head coach, or whoever decides they need my services. I'll be ready. You can rest assured of that. I work out every day. I keep in shape because I know once that phone call comes — when it comes, not if, but when it comes — then I'll be ready to step up and deliver because that's what they are asking of me when they place that phone call."
Williams' short stint in the ring proved that he's in shape and is indeed an elite athlete, but it's his time with the Pittsburgh Steelers that should be most telling to interested general managers and coaches. He played running back for two seasons in Pittsburgh, mainly used as the backup to Le'Veon Bell, though he did start 10 games in 2015 when Bell missed much of the season due to a two-game suspension and then a knee injury.
Williams more than picked up the slack for the Steelers that season, notching 907 yards and 11 touchdowns. In 2016 he played in nine games, starting four. Bell was Pittsburgh's main rushing option last season, but still, Williams was able to notch 343 yards and four touchdowns on 98 carries. He also caught two touchdown passes, proving that he's the type of "dual-threat" running back that can make a defense very weary.
By NFL standards, Williams is getting up there in age (he's 34), and while he may not be an every-down starter in 2017, he'll still bring a lot to the table in a backup role. He can be the lighting to somebody's thunder, and that's still a valuable job to have in today's NFL.
"Football injuries are 100 percent of the game," Williams said. "People get nicked up, people get bruised, injured, things of that nature. Me, considering myself a reliable football player — I'm not going to say reliable running back, I'm going to say reliable football player — I know that somebody out there feels as if like they can depend on me. Whether it's the Pittsburgh Steelers, whether it's somebody else. I know there is 28 teams out there that could use my services."
Williams, a free agent, told Schefter that he hasn't signed with a team yet because had he done so he wouldn't have been able to wrestle. Now that he's achieved that goal, he's ready to get back to football.