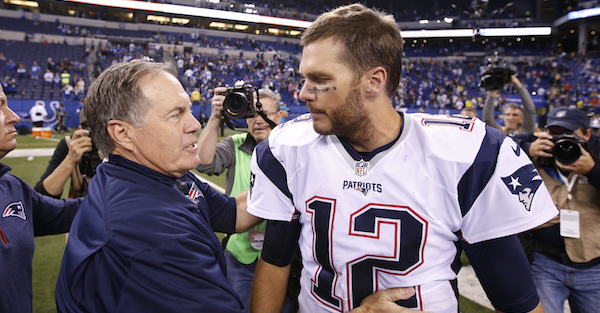 Joe Robbins/Getty Images
INDIANAPOLIS, IN - OCTOBER 18: Head coach Bill Belichick and Tom Brady #12 of the New England Patriots congratulate each other after the game against the Indianapolis Colts at Lucas Oil Stadium on October 18, 2015 in Indianapolis, Indiana. The Patriots defeated the Colts 34-27. (Photo by Joe Robbins/Getty Images)
The New England Patriots upgraded their offensive talent in a big way this week, adding dynamic wide receiver Brandin Cooks in a trade from the New Orleans Saints. However, the trade package secured from the Saints in exchange for Cooks is changing, as the Patriots will lose the fourth round pick (No. 118 overall) as a part of the DeflateGate punishment.
To be fair, New England will actually get back the No. 132 overall pick that they previously lost when the penalties were handed down but, because of the Cooks trade, the NFL is taking the better of the two fourth-round selections. Mike Florio of ProFootballTalk sheds a bit of light on the situation:
Said the NFL in response to the question of whether the Patriots would lose the higher fourth-round pick and retrieve the fourth-round pick that had been acquired from the Seahawks, ?In general and not in reference to a particular trade, they would have their highest pick forfeited and the currently forfeited pick restored.?

The Patriots, per a source with knowledge of the situation, did the deal fully expecting that the higher fourth-round pick would be lost and the 132nd pick would be returned.
In the grand scheme, this isn't a massive deal but it does lessen the perceived package of what New England was extracting from New Orleans. Still, the Patriots knowing about this wrinkle ahead of time does make it a bit better, even if the organization simply cannot escape from the endless carnage of DeflateGate.
On the bright side, they just won the Super Bowl. Everything is okay in Foxboro.