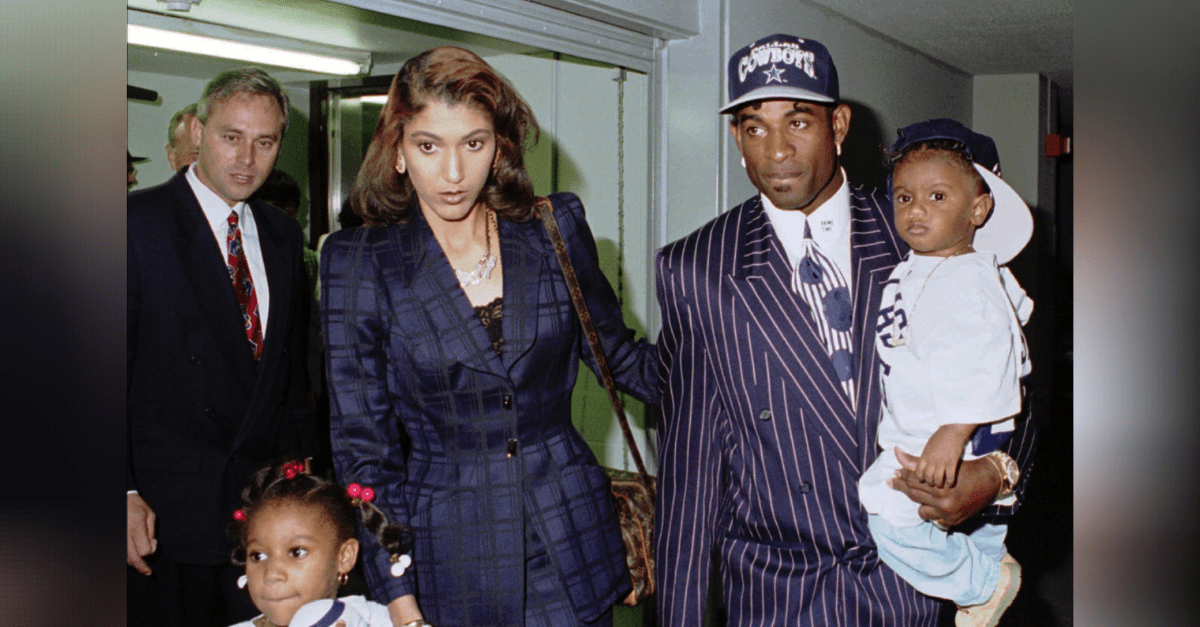 AP Photo/Ron Heflin
Deion Sanders wears many hats. Some know him as the Hall of Fame NFL cornerback who won two Super Bowls across 14 seasons with the Atlanta Falcons, Dallas Cowboys and San Francisco 49ers and made "Prime Time" a sports sensation. Baseball fans may remember him as a speedy outfielder for the New York Yankees and Atlanta Braves. To others, he's an NFL analyst whose face is often seen on TV.
No matter how you spin it, Neon Deion is one of the greatest athletes of all time. The trash talk king knows how to have a good time, too. From nearly pissing himself in a snake prank to catching fish with Randy Moss on a legendary fishing trip, Sanders always gives fans something to talk or laugh about.
At 53, Prime Time is well past his prime and seems to be a more settled down man. The legendary NFL player has five children and has been married (and divorced) twice. One of those marriages ended about as pretty as Sloth from The Goonies. The good news for Sanders is he's dating a woman worth millions now.
Deion Sanders' First Wife Carolyn Chambers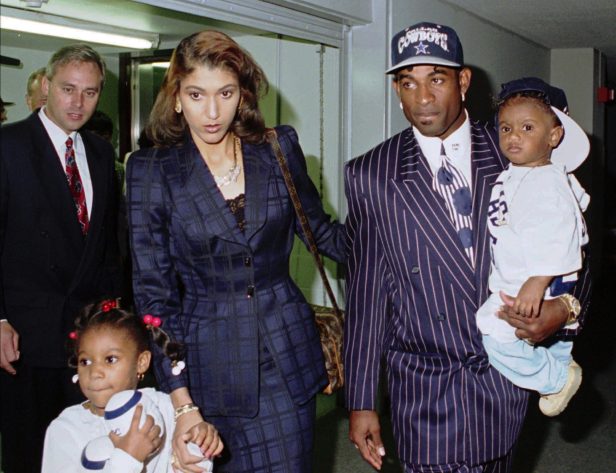 RELATED: Nobody Knows Bo Jackson Like His Wife Linda
Deion Sanders married his first wife Carolyn Chambers in 1989, the same year he became the fifth-overall pick in the 1989 Draft by the Atlanta Falcons. The two spent a decade together and had two children, Deion Sanders Jr. and Deiondra Sanders.
In 1998, they parted ways. After divorcing, Chambers married former NBA player Erick Strickland. The 46-year-old played nine seasons in the NBA with the Dallas Mavericks, New York Knicks, Vancouver Grizzlies, Boston Celtics, Indiana Pacers and Milwaukee Bucks.
Near the end of his marriage in 1997, Sanders attempted suicide. He wrote in his autobiography Power, Money & Sex: How Success Almost Ruined My Life how he drove his car off a cliff and survived.
"I was going through the trials and tribulations of life. I was pretty much running on fumes," he said, via The Undefeated. "I was empty, no peace, no joy. Losing hope with the progression of everything."
When Deion and his second wife became entrenched in a custody battle, his ex-wife was called upon to testify. Chambers said in court that her first encounter with Pilar Sanders was Pilar calling her to tell her "I'm seeing your husband."
Deion Sanders' Second Wife Pilar Sanders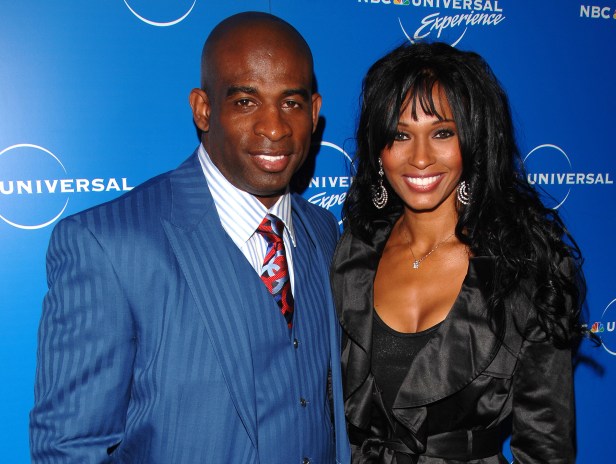 In 1999, Deion married actress Pilar Biggers-Sanders, who goes by Pilar Sanders.
They had three children — Shilo, Shedeur and Shelomi — over the course of their marriage. The Sanders also gave America a peak into their relationship on the reality show "Deion & Pilar: Prime Time Love," which aired on Oxygen in 2008.
Deion announced he was filing for divorce from Pilar in 2011, which began an ugly and messy process that lasted for the next few years.
The ugly and the messy? For starters, Pilar said she found out he was filing for divorce from TMZ. Then Deion's daughter, Deiondra, went on a pretty wild Twitter rant accusing Pilar on social media of being a "gold digging h**" whose boxes had been packed for weeks at their home in Prosper, Texas.
Deion was originally awarded primary custody of their two sons while Pilar would get their daughter in 2013. After a judge later awarded custody of their daughter to Deion, Pilar blasted and accused her ex-husband of domestic violence in the Collin County Courthouse, which led to the former Dallas Cowboy filing a defamation lawsuit against her. Pilar secured a victory in court in 2017, however, and Deion reportedly had to pay $1 million to her.
Pilar Sanders moved on by dating a man named J. Prince, the CEO of Rap-A-Lot Records. They got engaged in 2019.
Deion Sanders' Girlfriend Tracey Edmonds
Prime Time moved on, too. In 2012, the Hall of Famer began dating Tracey Edmonds, the former TV show host of Extra and CEO of Edmonds Entertainment Group Inc. worth a reported $30 million.
Edmonds formerly was married to Kenny "Babyface" Edmonds for 13 years before divorcing in 2005. Tracey even at one point called actor Eddie Murphy her fiance after the divorce.
Deion and Tracy live in Texas together. He surprised her with a new jewelry box on an episode of "Tiny House Nation," during which they divulged they made a long distance relationship work.
"Deion and I have a long distance relationship. I spend most of my time in L.A. and he's here in Dallas. So when it's my time to come to Dallas, I stay at Deion's house. It's very crowded. I'm really looking forward to this tiny house because it'll give us a chance to just find some us time," she said.
Deion was pretty blunt about how they spend their time when they're with each other.
"We spend time back in the bedroom and we walk to the kitchen, and then go right back to the bedroom," he joked during the episode.
Deion and Tracey have spent 2020 together during the coronavirus pandemic. She posts to her Instagram often about the man she loves. She had a high praise for him on Valentine's Day and Father's Day.
"Happy Father's Day to @deionsanders, the MAN who sets the bar for fatherhood SO HIGH!!!! You have been a blessing, inspiration, and role model not only for your own kids, but for THE MASSES!! As someone who has been by your side for 9 years, I can testify that you are THE REAL DEAL and you practice EVERYTHING you preach!!! It is a BLESSING to honor you, share this special day with you, and be doing what we like doing… JUST CHILLIN' TOGETHER!! We send our LOVE to everyone out there! You are our family too!! Enjoy the rest of this day!!" she wrote.
Deion Sanders may have left NFL Network for the 2020 NFL season, but Prime Time always finds a way to keep his face in the spotlight.