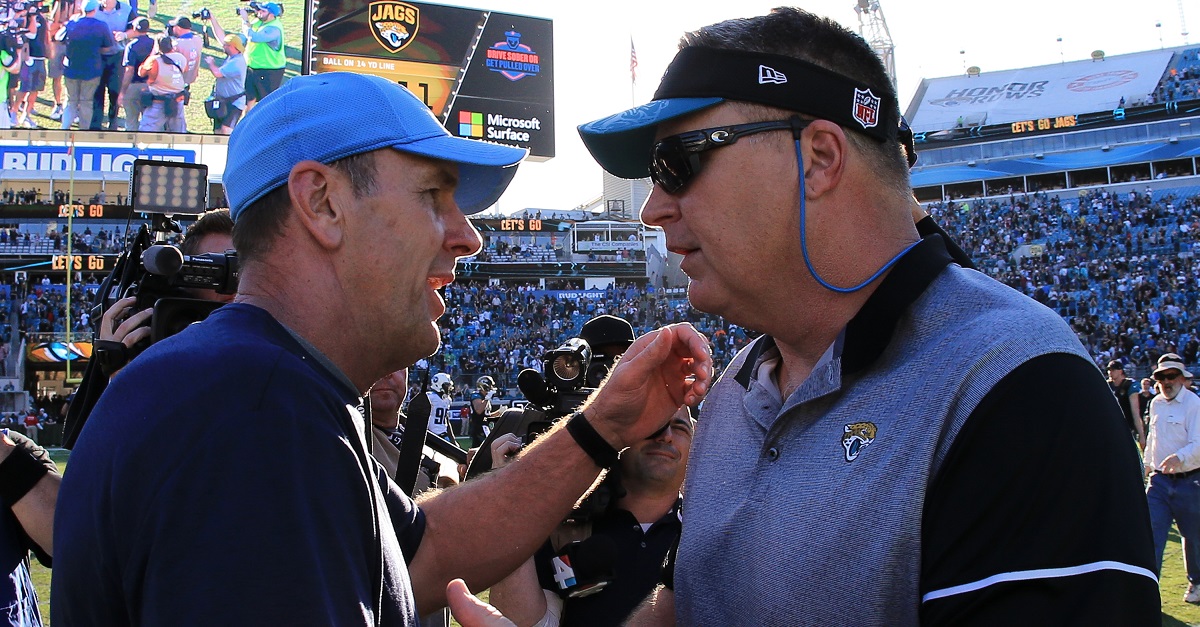 Rob Foldy/Getty Images
JACKSONVILLE, FL - DECEMBER 24: Interim head coach Doug Marrone of the Jacksonville Jaguars shakes hands with head coach Mike Mularkey of the Tennessee Titans after the game at EverBank Field on December 24, 2016 in Jacksonville, Florida. (Photo by Rob Foldy/Getty Images)
The Tennessee Titans will be participating in the NFL Playoffs this weekend but, in short, the team has not been overly impressive in recent days. Of course, the team boasts only a 9-7 record that doesn't make it appear as a juggernaut, but in the lead up to the team's match-up with the Kansas City Chiefs, tight end Delanie Walker had some interesting comments with regard to quarterback Marcus Mariota and the overall offensive output from the coaching staff.
Mike Mularkey and company have been criticized for the conservative nature of the play-calling, especially through the prism of Mariota's mobility and explosiveness. With that in mind, Walker said the following (via The Tennesseean) about what Mariota may need to do in the future.
?Sometimes you?ve got to play backyard football. Sometimes you?ve got to overcome coaching. And I think that?s what makes some players great, when they know how to do that.?

?Sometimes coaching is like, they draw it on the paper, you run a straight line and you break out,? Walker said. ?Sometimes you?ve got to overcome coaching. That defender is never going to let you run a straight line, so figure out how to make that line straight without running it straight, you know what I?m saying? That?s overcoming coaching. If Coach tells you it?s a nine-technique, but then in the game you?ve got a six-technique, OK, figure it out and block it. That?s what you?ve got to do."
Walker's assertion that Mariota must "overcome coaching" is not exactly subtle and, if anything, it is jarring for a team that is still playing in the postseason. It wouldn't be a stretch to think that Walker is speaking for an entire faction of the locker room, but in the same breath, response to this should be interesting, especially if Mariota actually freelances a bit in the team's Wild Card game.
The Titans are underdogs on the road in Kansas City so, if Mariota does not make things up, the team may be in some trouble against the Chiefs.