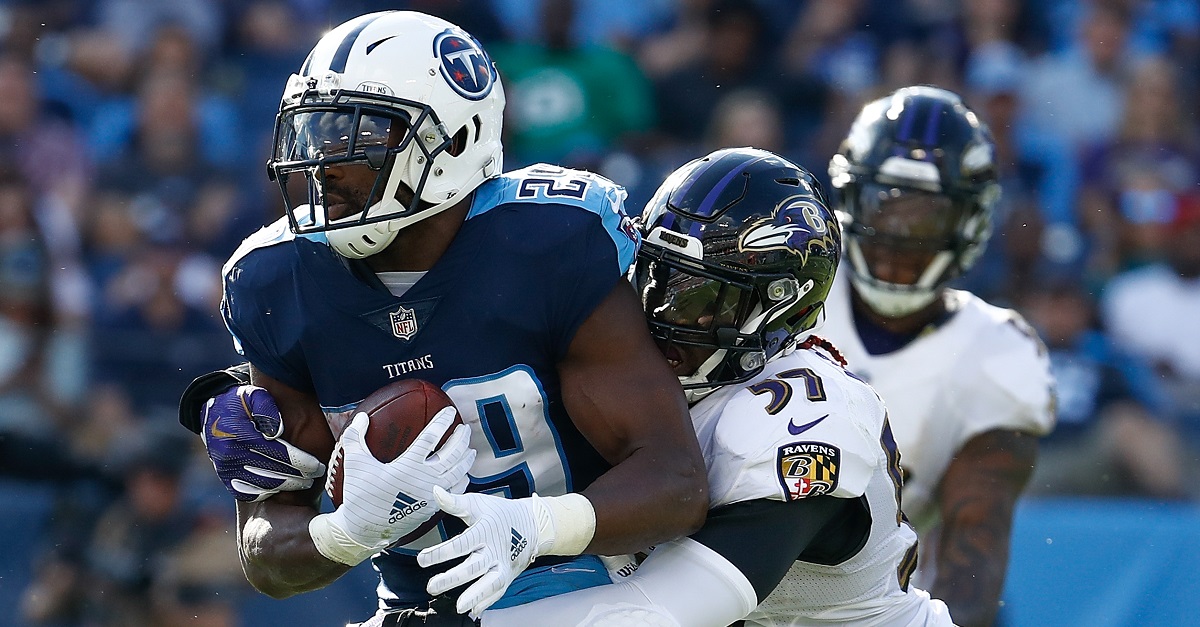 Andy Lyons/Getty Images
NASHVILLE, TN - NOVEMBER 05: DeMarco Murray #29 of the Tennessee Titans is tackled by C.J. Mosley #57 of the Baltimore Ravens during the second half at Nissan Stadium on November 5, 2017 in Nashville, Tennessee. (Photo by Andy Lyons/Getty Images)
Tennessee Titans running back DeMarco Murray has reportedly been diagnosed with a third-degree MCL tear following an MRI, but believes he can play through it during the team's final regular season game against the Jacksonville Jaguars on Sunday, sources told ESPN's Adam Schefter.
The former Pro Bowler experienced the injury during Sunday's 27-23 loss to the Los Angeles Rams. Head coach Mike Mularkey claimed the running back's injury has more to do with pain tolerance than effectiveness.
"I'm not going to rule him out just yet," Mularkey said. "He's day-to-day right now. We hope for the best."

"He's a different guy when it comes to coming back from injuries," the coach added.
Murray's injury provides a bigger load for Derrick Henry, who will likely get his change to serve as the team's lead back for the first time this season regardless of whether his teammate is active on Sunday. The former Heisman Trophy winner recorded 92 yards and a touchdown during the Titans' Week 2 victory over the Jaguars in their previous matchup.
Henry leads the team with 693 yards and is averaging 4.7 yards per carry, while Murray — who has 36 more attempts — has 659 yards and is averaging 3.6 yards per carry.
Third-string running back David Fluellen could also see more playing time should the team decide to rule out the starting running back on Sunday.