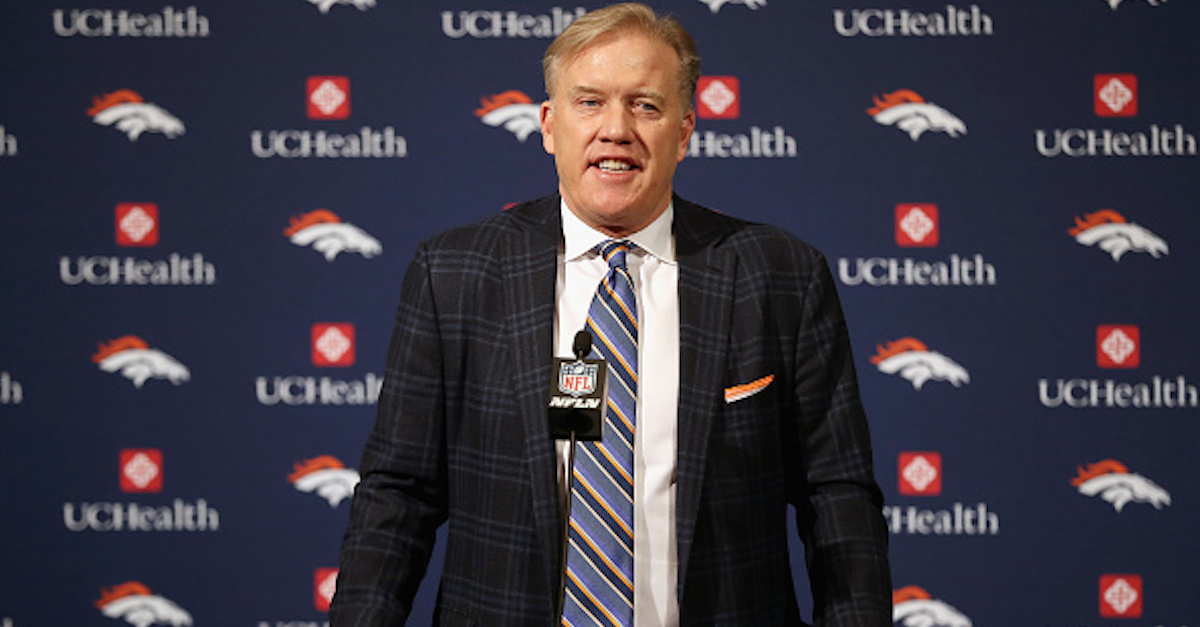 Matthew Stockman/Getty Images
ENGLEWOOD, CO - JANUARY 12: Denver Broncos General Manager John Elway fields questions from the media during a press conference to introduce Vance Josepf as the new head coach at the Paul D. Bowlen Memorial Broncos Centre on January 12, 2017 in Englewood, Colorado. (Photo by Matthew Stockman/Getty Images)
The Denver Broncos are 3-7 and fourth in the AFC West, so things aren't going too well in the mile high city.
It's been a tough season so far, without a doubt, so tough that it inspired former Bronco Hall of Fame quarterback turned general manager John Elway to call his squad soft.
Here's what he said via 9news.com:
"I will tell ya, I think we got a little bit soft,'' Elway said. "To be dead honest with you, we got a little bit soft. We went 4-0 in the preseason, we started 3-1 we get a bye week and if you exhale in this league? You're in trouble.
"And you know what, to be dead honest with you, I think we exhaled, and it's hard to recover from that. It will be a lesson that hopefully we all learned and can prevent it from happening in the future.''
Those are strong comments from the boss of the organization, and while they may have been made in an effort to revitalize his team it did lead to some backlash.
It wasn't necessarily the most tactful statement from Elway, which meant he naturally had to backtrack them a bit — throwing the blame on himself instead of on his team.
"I was talking about everybody in the organization, and the track record we've had…when you've had success sometimes you get soft. I'd put myself at the front…I knew before I said it that some of the guys were not gonna like that."
For what it's worth, the Broncos did win the Super Bowl in 2015 and it has been downhill since then. Sure, they lost Peyton Manning to retirement, but there are few excuses for going 12-4 with a Super Bowl win and then straight to 9-7 and then 3-7 this season.
Maybe Manning was really that important for the organization. Or perhaps the Broncos did get soft. Perhaps they let their success get to their head.
According to Elway, that was the case, and it started with him.