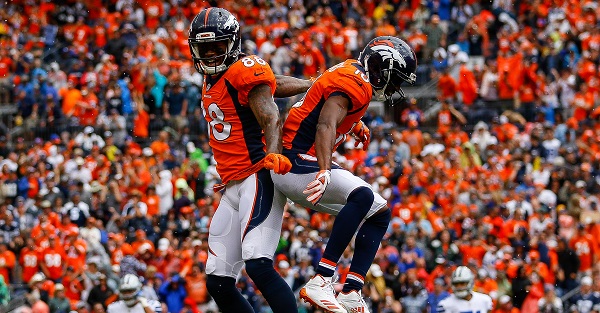 Justin Edmonds/Getty Images
DENVER, CO - SEPTEMBER 17: Emmanuel Sanders #10 and wide receiver Demaryius Thomas #88 of the Denver Broncos celebrate after a first quarter touchdown against the Dallas Cowboys at Sports Authority Field at Mile High on September 17, 2017 in Denver, Colorado. (Photo by Justin Edmonds/Getty Images)
Emmanuel Sanders is coming off a disappointing season in which the veteran receiver produced only 47 catches for 555 yards and, given his age, it does not come as a shock that the transitioning Denver Broncos may look to move on from him in the near future. With that in mind, Nicki Jhabvala of the Denver Post is reporting just that to the tune of the Broncos shopping the pass-catcher on the trade market.
Though no specifics were given in the report, Sanders has a salary cap figure of almost $11 million for the 2018 season if the Broncos keep him on board and, considering Denver's offensive struggles, that would be at least a mild surprise. Beyond the buzz about trades for both Sanders and fellow wide receiver Demaryius Thomas, principle decision maker John Elway isn't really committing to anything, at least publicly. Via 247Sports:
"I think as we get closer and as we get into free agency once we get back to the office, start looking at availability and what?s out there, [we] rank the free agents that are available. Then we will also look at ourselves, look where we are and look where we are budget-wise and cap-wise. As we gather information once we get back, we?ll start putting the plan together with all of those considerations going into the decision.?
Sanders was a key member of a Super Bowl team in Denver and, even with 2017 in play, he remains an intriguing piece. Still, he isn't a bargain when it comes to his current contract and that, as always, throws things into peril. Stay tuned.