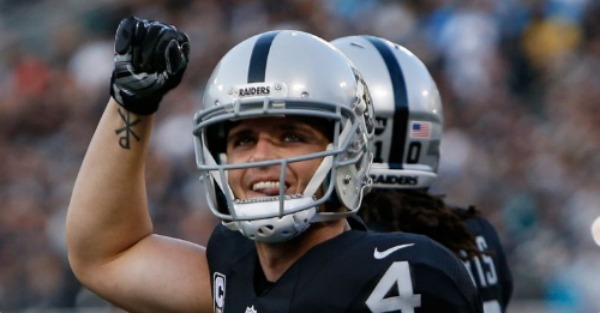 Twitter Screen Shot
No, fingers aren't supposed to bend this way. Unfortunately, Derek Carr's did.
And, here's a closeup:
The injury happened in the third quarter of the game between Carr's Oakland Raiders and the Carolina Panthers. Carr was behind center when the ball hit his hand and the pinky made a horrendous right turn. Carr told ESPN, "Probably some of the most pain I've felt in my life."
After the injury, Carr ran off the field to the locker room, and Oakland fans no doubt were worried about their 25-year-old franchise QB. But Carr only missed one series, and re-entered the game wearing a glove on his throwing hand.
The Raiders haven't said yet exactly what type of injury he suffered.
But it was painful. And ugly.
Oakland won the game 35-32 to move to 9-2. The disappointing Panthers fell to  4-7.