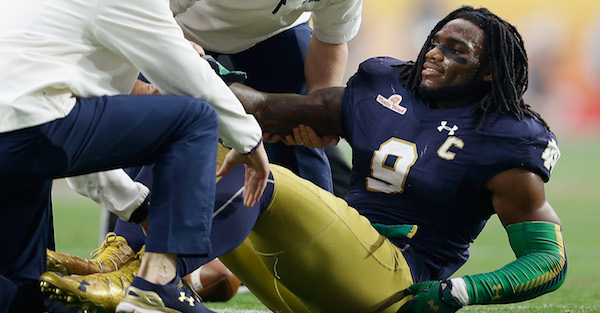 Christian Petersen/Getty Images
GLENDALE, AZ - JANUARY 01: Linebacker Jaylon Smith #9 of the Notre Dame Fighting Irish lays on the field after an injury during the first quarter of the BattleFrog Fiesta Bowl against the Ohio State Buckeyes at University of Phoenix Stadium on January 1, 2016 in Glendale, Arizona. The Buckeyes defeated the Fighting Irish 44-28. (Photo by Christian Petersen/Getty Images)
As recently as the start of the 2016 season, there were doubts as to whether Cowboys second-round draft pick Jaylon Smith would ever play football again after suffering a career-threatening knee injury in Notre Dame's bowl game last January.
Those fears have now turned into optimism as reports continue to surface that Smith could return to action later this season. The latest news comes from former Dallas vice president of player personnel Gil Brandt, who had dinner with the linebacker recently and got some inside info on his recovery status.
Via Marcus Mosher of Footbology.com, Brandt said things seem to be shaping up for Smith and his return looks to have a target date.
RELATED: Cowboys draftee Jaylon Smith's injury update questions whether he'll ever return to the field
Team owner Jerry Jones is also optimistic. In a recent interview with the Fort Worth Star-Telegram, Jones said he's not ruling out Smith coming back sometime this season.
"We are waiting," Jones said. "He's in great shape, great rehab shape with his knee. So we're just trying to hope that he wakes up a nerve, a nerve re-firing or a regeneration of a nerve, is just that. It's like a foot that's gone to sleep and shaking it till it wakes up is how I picture it to some degree."