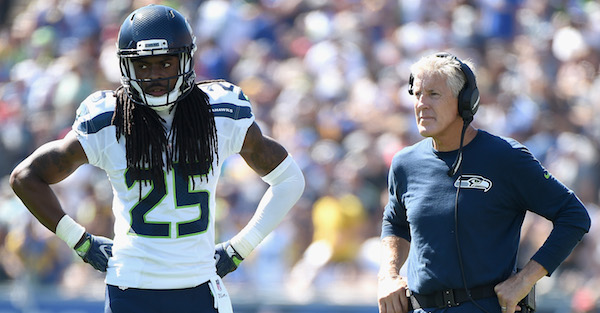 Harry How/Getty Images
LOS ANGELES, CA - SEPTEMBER 18: Head coach Pete Carroll of the Seattle Seahawks speaks to Richard Sherman #25 in the second quarter of the home opening NFL game against the Los Angeles Rams at Los Angeles Coliseum on September 18, 2016 in Los Angeles, California. (Photo by Harry How/Getty Images)
Elite defensive back Richard Sherman is still a member of the Seattle Seahawks, but that may not be the case much longer. Although, the Seahawks' asking price for Sherman was originally reported to be very high, a new report suggests that may no longer be the case.
Instead, the price to acquire Sherman is reportedly dropping, so a Sherman trade may be more likely than previously assumed.
Via Bleacher Report:
"All-Pro cornerback Richard Sherman has been in numerous trade rumors this offseason, and as Mike Florio of Pro Football Talk noted Tuesday, the Seattle Seahawks are reportedly dropping their asking price for him as they look to complete a deal.

Mike Garafolo of NFL Network said Tuesday the team is looking for a "first-round pick and another mid-round pick." Last week, Armando Salguero of the Miami Herald reported the Seahawks were hoping for "a very good player plus a high draft pick."
It's interesting that this information is coming out now, especially with the 2017 NFL Draft right around the corner, perhaps the Seahawks really want to move Sherman to acquire more picks and the right veteran piece to replace him before then.
Still, with how high the Seahawks' asking price was for Sherman originally, it's still going to take a lot for a team to pry Sherman away from Seattle.