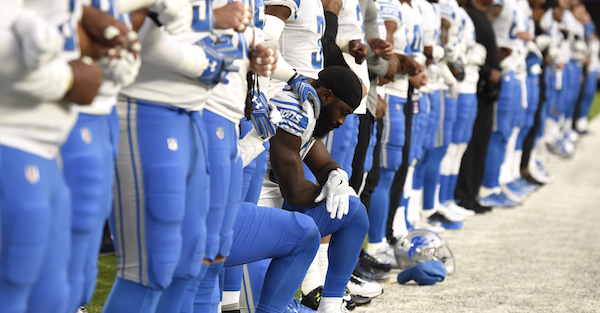 Hannah Foslien/Getty Images
MINNEAPOLIS, MN - OCTOBER 1: Steve Longa #54 of the Detroit Lions takes a knee with teammate Jalen Reeves-Maybin during the national anthem before the game against the Minnesota Vikings on October 1, 2017 at U.S. Bank Stadium in Minneapolis, Minnesota. (Photo by Hannah Foslien/Getty Images)
Protests taking place during the national anthem continue to be a topic in NFL circles and across the entire sports world. One such protest has come from Detroit Lions linebacker Jalen Reeves-Maybin. Two weeks ago, Reeves-Maybin was one of eight Lions to kneel and, in Week 4, the defensive player was one of only two Lions to take a knee during the playing of anthem.
Now, Reeves-Maybin has opened up to Kyle Meinke of MLive.com about the kind of verbal abuse he has taken from fans and it is jarringly despicable.
"People are saying, like, 'I hope you get CTE. 'Or, 'I hope you can't play with your kids when you get done playing,' Stuff like that. But, yeah. It doesn't bother me."
The notion that any human would root for a player to "get CTE" is unbelievably gross and Reeves-Maybin also indicated that he has received numerous racially-motivated threats. Within the same interview, he opened up as to why he is deciding to kneel.
"I feel like the right thing for me to do is kneel. I really don't like the state of social inequalities and justices that go on here. I didn't want it to be about what President Trump said, and I felt like at the time, the week when you saw all the demonstrations, I feel like it more so made it about that and that's not the idea of what it should have been."
It is clear that Jaylen Reeves-Maybin knows exactly why he's kneeling and, even if you disagree, being respectful is the only responsible course of action. Unfortunately, some observers haven't fit that bill but Reeves-Maybin seemingly remains undeterred in his motivation.