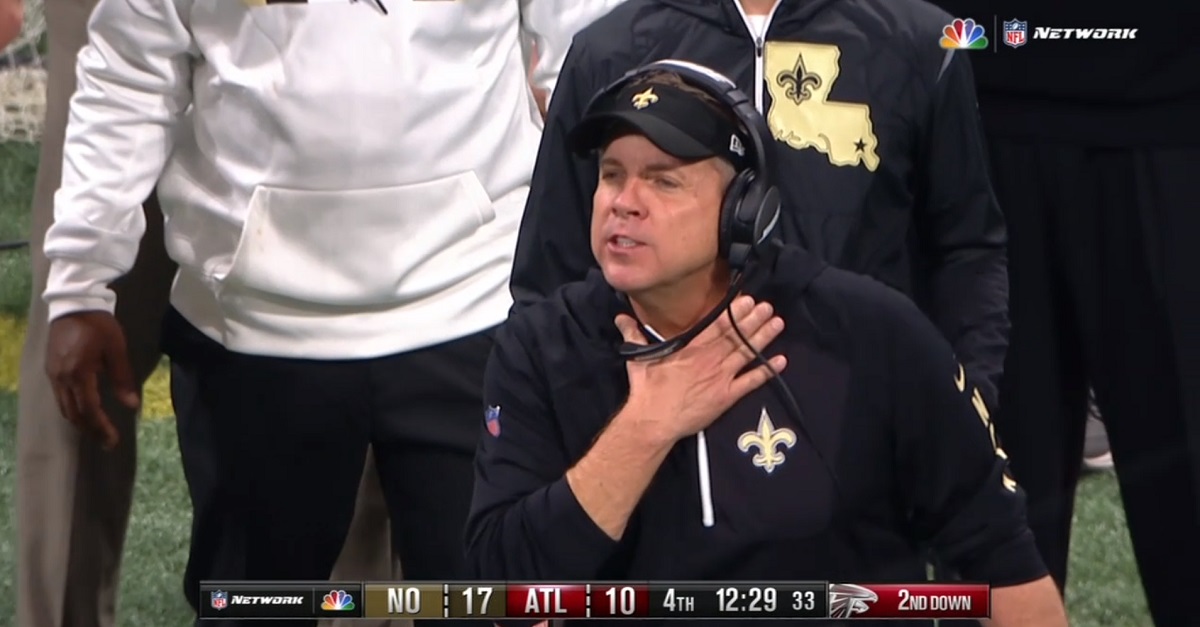 ESPN/Screenshot
The Atlanta Falcons blew a 28-3 lead in the Super Bowl and everyone remembers that. Since then, the Falcons have scratched and clawed their way into legitimate playoff position in 2017 but, even as recently as Thursday night's game against the New Orleans Saints, the club has trouble escaping the shadow of the most infamous collapse in NFL history.
While the Falcons engineered a comeback 20-17 victory over the Saints in Atlanta, New Orleans head coach Sean Payton was captured on camera (at the 12:30 mark of the fourth quarter) giving what appeared to be a choking gesture toward Atlanta and running back Devonta Freeman.
As you may imagine, Freeman was prompted about this after the fact and gave a pointed response to ESPN's Vaughn McClure.
"Man, I saw it. That man don't know nothing about choking. He ain't from where I'm from. He don't know about choking. He's a good competitor. The 'competes' probably came out. But we don't let that bother me. He don't know nothing about choking."
From there, Freeman said that Payton "ain't going to get it off me" and said the head coach was "tripping" after the incident.
Payton said afterwards that he didn't remember making the gesture.
Of course, Freeman was able to take this stance confidently knowing that Atlanta overcame the deficit at the time of the gesture, even with the caveat that the running back was bailed out of a fumble on the game's final drive. Payton, somewhat predictably, did not acknowledge his role after the game, saying he didn't remember what transpired.
Given the nature of the rivalry, there is no love lost between the Falcons and Saints but this is certainly a new chapter.