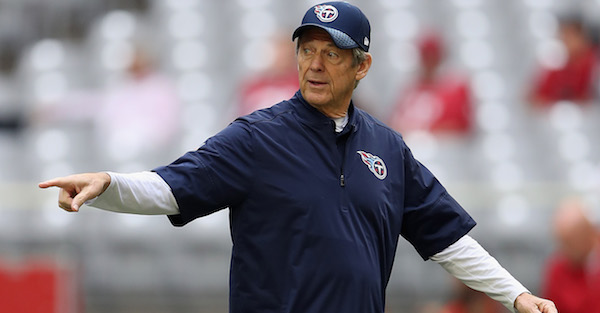 Christian Petersen/Getty Images
GLENDALE, AZ - DECEMBER 10: Coach Dick LeBeau of the Tennessee Titans on the field before the NFL game against the Arizona Cardinals at the University of Phoenix Stadium on December 10, 2017 in Glendale, Arizona. The Cardinals defeated the Titans 12-7. (Photo by Christian Petersen/Getty Images)
New Tennessee Titans coach Mike Vrabel is in the process of hiring his staff, and he has informed Hall of Fame defensive coordinator Dick LeBeau that he won't be returning to the Titans next season.
LeBeau, 80, has been a coach in the NFL since 1973, and he played in the league from 1959 to 1972. The most successful tenure of his career came as the defensive coordinator of the Pittsburgh Steelers from 2004 to 2014 where he helped the franchise win two Super Bowls.
LeBeau joined the Titans in 2015 as the defensive coordinator and assistant head coach. According to Pro Football Talk, LeBeau said he would be "comfortable" retiring if the new coach didn't retain him.
During LeBeau's first stint as the defensive coordinator for the Cincinnati Bengals from 1984 to 1991, he popularized the zone blitz that is now common throughout the league. He returned to the Bengals as the defensive coordinator from 1997, and he was the head coach of the team from 2000 to 2002.
After playing college football at Ohio State, LeBeau was drafted by the Cleveland Browns. After being cut in training camp, he signed with the Detroit Lions. He intercepted 62 passes, which is still the franchise record for the Lions.
LeBeau was elected to the Pro Football Hall of Fame in 2010.
Vrabel hasn't announced his defensive coordinator yet, and it's possible he will have control of the defense given his background.