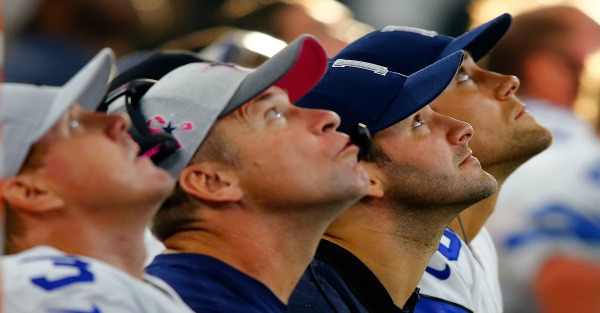 ARLINGTON, TX - OCTOBER 11: during the second half of the NFL game against the New England Patriots at AT&T Stadium on October 11, 2015 in Arlington, Texas. (Photo by Mike Stone/Getty Images)
As Tony Romo makes his way back from a clavicle injury in Week 2, fans are wondering if the Cowboys may have made a mistake in placing him on the injured/designated return list, thinking the quarterback could have been cleared to play this Sunday against the Eagles instead of waiting until Nov. 22.
"We don't think so," coach Jason Garrett said, via The Dallas Morning News. "Again, it's a process of the bone healing. That simply takes time. We allocated that amount of time because really that is what was prescribed for him to heal coming back from that injury. All signs have been that he's handled everything up to this point well. He had a good day yesterday. We'll just keep taking his situation day by day going forward."
Romo practiced for the first time since his injury on Wednesday. While he didn't throw on Thursday, he is expected to do so on Friday.
This doesn't necessarily mean he's ready for an NFL game. His workload in practice will continue to increase leading up to his anticipated return in Week 11.