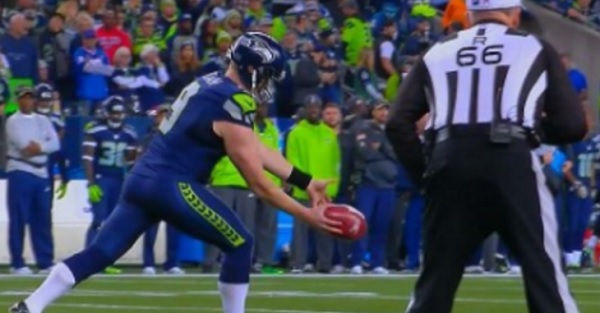 USA Today/For The Win!
Deflategate appeared to finally end with Tom Brady's suspension earlier this year, so I guess that means it's time for the sequel.
Multiple fan tweets appeared after the Seahawks-Bills Monday Night Football game which appear to show the Seahawks using under-inflated footballs on special teams.
The first photo there appears to show an under-inflated football from a Seahawks-Panthers game in 2015. The other two photos are from Monday night, where a ball looked morphed while being held by Seattle punter Jon Ryan.
Another look: (photo via USA Today)
There could be reasonable explanations for these photos; still images are never going to be the most definitive thing. However, fans took to social media to express their displeasure.
The ultimate coincidence? The head official for Monday's game was Walt Anderson, who was the same official in charge of the infamous Deflategate game between the Patriots and Colts in the 2014-15 Playoffs.
[H/T For the Win]