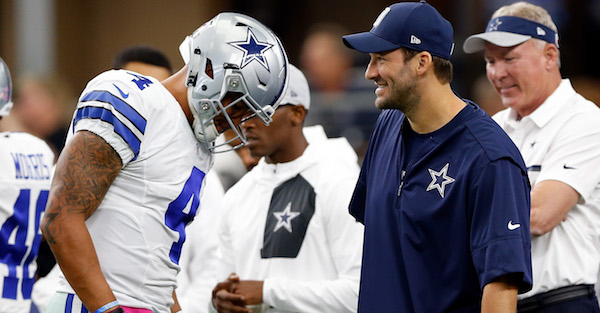 Wesley Hitt/Getty Images
ARLINGTON, TX - OCTOBER 09: (L-R) Dak Prescott #4, quarterback of the Dallas Cowboys talks with injured quarterback Tony Romo #8 prior to the game against the Cincinnati Bengals at AT&T Stadium on October 9, 2016 in Arlington, Texas. (Photo by Wesley Hitt/Getty Images)
The Dallas Cowboys quarterback controversy may be over, and it looks like Tony Romo might have said so himself.
In a press conference on Tuesday, Romo admitted that Prescott had earned the starting QB job, and that Romo would support that decision going forward.
Romo had just recently recovered from a back injury, during while Prescott helped lead the team to an 8-1 start on the season. While Romo may be the better quarterback, many feel that Prescott is currently the hot hand and that the Cowboys shouldn't make changes while things are working.
Whether this means Romo stays with the Cowboys is still yet to be seen, but it looks like Romo conceded the race to Prescott on Tuesday afternoon.