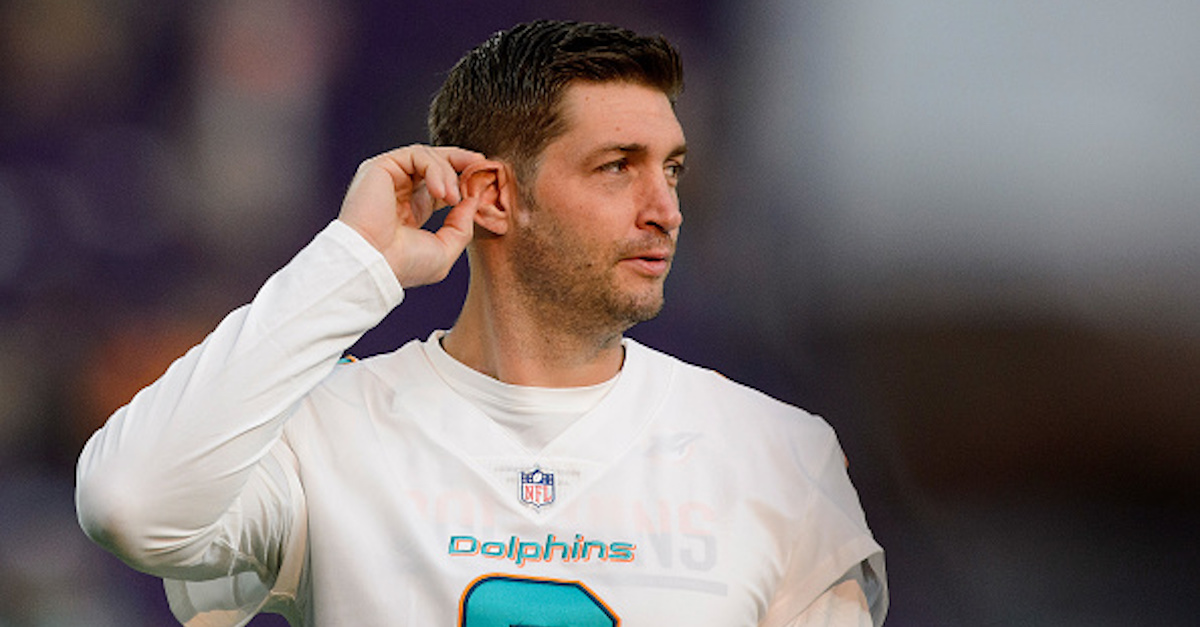 Photo by Hannah Foslien/Getty Images
MINNEAPOLIS, MN - AUGUST 31: Jay Cutler #6 of the Miami Dolphins looks on during warmups before the preseason game against the Minnesota Vikings on August 31, 2017 at U.S. Bank Stadium in Minneapolis, Minnesota. The Dolphins defeated the Vikings 30-9. (Photo by Hannah Foslien/Getty Images)
Joe Namath and Jay Cutler. Do the two quarterbacks belong in the same sentence, no matter the context? According to Tampa Bay Buccaneers head coach Dirk Koetter, the answer to that question is apparently yes.
Looking ahead to the season-opening matchup between the Bucs and Dolphins, Koetter compared Cutler to one of the greatest quarterbacks in NFL history. Here's what he said, per Greg Auman of The Tampa Bay Times:
?He?s a strong-armed, quick-release guy, stand in the pocket [passer],? Koetter said. ?He?s been a little streaky in his career, and when he?s hot, he?s red-hot. I?ve seen him light teams up. This week, he?s Joe Namath to us. He?s the greatest quarterback, whoever your greatest quarterback is, because he?s the one we?re playing this week.?
Of course, this is a bit of hyperbole from Koetter. Does he really think Cutler is at the level of Namath? Probably not. More likely is the fact that he believes Cutler is very dangerous to his team in Week 1, which he is. As the Tampa Bay head coach astutely points out, the former Bears' quarterback can be streaky at times. When he struggles, oh boy does he struggle. But when he's on his game? Look out, because he can light up the scoreboard.
In respect to how Cutler can hurt the Dolphins, he is a bit like Namath from the coach's perspective, in that when you prepare for a player you've got to prepare like they're the best in the world — because they could be (at least on that Sunday) if you don't take them seriously.