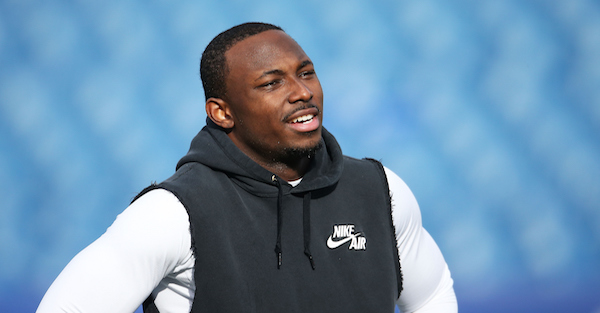 ORCHARD PARK, NY - DECEMBER 06: LeSean McCoy #25 of the Buffalo Bills warms up before the game against the Houston Texans at Ralph Wilson Stadium on December 6, 2015 in Orchard Park, New York. (Photo by Tom Szczerbowski/Getty Images)
After Buffalo Bills running back LeSean McCoy was allegedly involved in a bar brawl that left a pair of off-duty cops in the hospital, charges were expected to be filed against the current football player.
According to Comcast SportsNet Philly, tension is rising between the District Attorney's office and the Philadelphia police department:
"According to law enforcement officials, tension between the District Attorney?s office and PPD has risen over the last few days because of the delay in charging McCoy and three other men for their alleged role in a fight at Recess Lounge in Old City early on the morning of Feb. 7. Sources told CSNPhilly.com that the D.A.?s office is hesitant to issue warrants because it has questions about the conduct of the officers that evening, including that the officers did not call 9-1-1 during the incident and whether they were drinking to excess."
McCoy's attorney has maintained his client's innocence throughout the process.