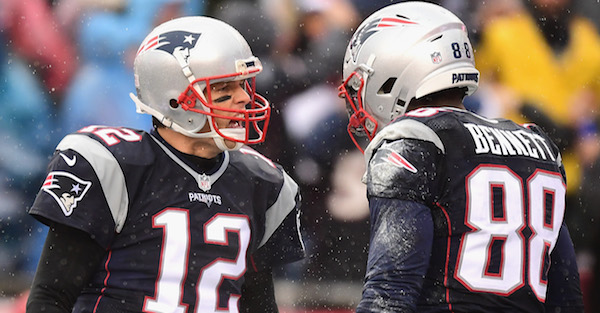 Billie Weiss/Getty Images
FOXBORO, MA - DECEMBER 24: Martellus Bennett #88 of the New England Patriots reacts with Tom Brady after catching a touchdown pass during the first quarter of a game against the New York Jets at Gillette Stadium on December 24, 2016 in Foxboro, Massachusetts. (Photo by Billie Weiss/Getty Images)
Tom Brady just won his fifth Super Bowl?which is the most of any player in history?but New York Jets receiver Brandon Marshall still doesn't think Brady is the best player of all-time.
Related: Joe Montana was asked if Tom Brady is the greatest of all time, and his answer is certainly surprising
In fact, Marshall told NJ.com he doesn't even think Brady is the best active player in football.
"He's not the best player ever," Marshall said. "We get caught up in that whole discussion, that when a quarterback is playing really well, he?s probably the best in the business, and we think he?s the best player. And that?s not true. When I think about player, I think about a guy that I can put at corner, safety, defensive end, a guy that I can put back on punt return, chase down kicks.
That, to me, is the best player. J.J. Watt, that can play defensive end, tight end, put him at tackle, make him lose some weight and he can probably play linebacker and safety. That?s the best player."
Brady might not be the best player ever?it's a subjective argument?but he is definitely the most accomplished. He'll be considered the best ever simply because he plays the most important position and has won the most Super Bowls. Marshall still sounds like a bit of a hater, though.
(h/t All 22)