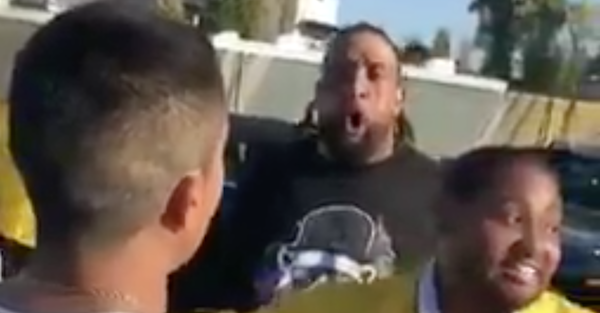 @AntHellaRaw/Twitter
Football is an emotional sport. One wrong word or move, here or there, can set someone off when you're out on the gridiron.
However, if you're a professional football player, try to keep those emotions on the field.
On Sunday, after the Oakland Raiders lost their third straight game, following a 30-17 loss to the Baltimore Ravens, things kind of got out of control. Raiders offensive lineman Donald Penn let his emotions get the best of him, and it almost escalated into a Ron Artest moment when a fan outside the stadium was yelling obscene things at Penn's car.
The 6-foot-5, 305-pound lineman then got out of his car and started walkking toward the fan looking like he was trying to get one more pancake before he went home. Then security came over, broke up the situation, and Penn went on his way.
Now, it's pretty easy to blame Penn in that situation.
He's the one making millions of dollars and has a lot to lose if things go wrong, and he's supposed to be able to shake off comments from disgruntled fans. But dealing with idiots like that specific fan never gets easier — especially when they're directly targeting and yelling obscenities at you after the game.
Go home, man. The game's over. Leave Penn alone and get a life.
[h/t Bro Bible]