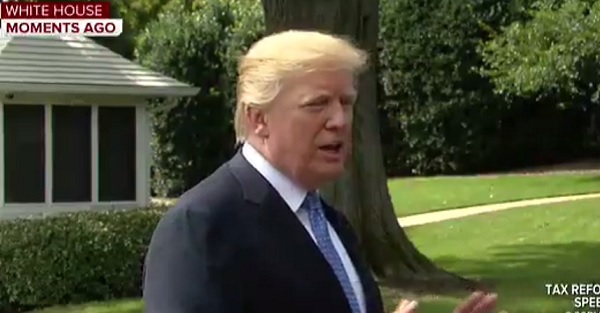 CBS News/Twitter
U.S. President Donald Trump does not think very highly of the NFL's future business prospects.
While speaking to the media on Wednesday, Trump said that the NFL is in a "very bad box" due to the ongoing protests taking place before games, and that "their business is gonna go to hell" if they don't change things.
The full quote from Trump:
"The NFL is in a very bad box," Trump says in the video above. "You cannot have people disrespecting our national anthem, our flag, our country, and that's what they're doing. In my opinion, the NFL has to change, or you know what's going to happen? Their business is gonna go to hell."
Trump has been in an ongoing battle with the NFL since Friday, when Trump referred to protesting players as "sons of bitches". The players responded in their games following that statement by protesting in record numbers, with most teams linking arms in unity during the anthem at minimum. Some teams declined to leave the locker room at all during pre-game ceremonies.
Trump has showed no signs of backing down from his position on the protests, and it doesn't look like the players are going to stop any time soon, either. This is a battle that could wage on for quite some time.