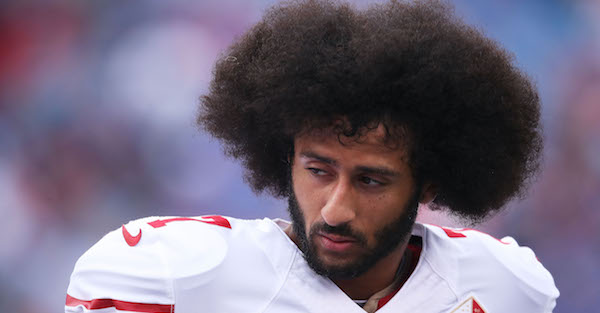 Tom Szczerbowski/Getty Images
BUFFALO, NY - OCTOBER 16: Colin Kaepernick #7 of the San Francisco 49ers warms up before the game against the Buffalo Bills at New Era Field on October 16, 2016 in Buffalo, New York. (Photo by Tom Szczerbowski/Getty Images)
Colin Kaepernick and his decision to kneel, not stand, during the national anthem has drawn mixed reviews throughout the NFL season.
You can add U.S. Pacific Command Commander Adm. Harry Harris to those not in agreement with Kaepernick's decision, as he launched into the quarterback on Wednesday during a Pearl Harbor ceremony, per Yahoo and the Associated Press:
?You can bet that the men and women we honor today ? and those who died that fateful morning 75 years ago ? never took a knee and never failed to stand whenever they heard our national anthem being played,? Harris said, according to the Associated Press.
There has been plenty of controversy surrounding the national anthem protests, started by Kaepernick to take a stand against the oppression of ?black people and people of color.?
Teams have had entire football seasons cancelled over national anthem protests, as they followed Kaepernick's protest.
Fans in Buffalo didn't agree with the quarterback and made controversial shirts with crosshairs on Colin Kaepernick?s face, while calling him a ?Muslim? and booing the quarterback while he kneeled.
The movement has shifted throughout the sports world, with some high school athletes laying on their backs with hands up and college athletes receiving alleged death threats. The latest lashing out against people protesting the national anthem ended up with fans booing the home team ECU band.
NBA star LeBron James and Carolina Panthers quarterback Cam Newton are among athletes who have yet to, and by all accounts won?t protest the national anthem.