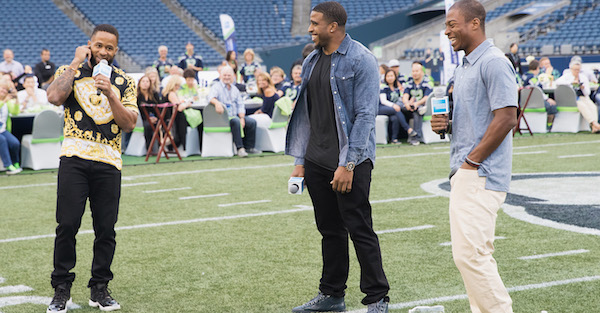 Mat Hayward/Getty Images for American Express
SEATTLE, WA - AUGUST 27: (L-R) Seattle Seahawks players Earl Thomas, Bobby Wagner and Tyler Lockett greet fans at American Express Dinner on the 50 at CenturyLink Field on August 27, 2016 in Seattle, Washington. (Photo by Mat Hayward/Getty Images for American Express)
Pro Bowl safety and former Super Bowl champion Earl Thomas is at this year's Pro Bowl and he was asked about his encounter with the Dallas Cowboys where he told head coach Jason Garrett to get him in the offseason. He was also asked about a potential holdout in hopes of a contract extension with the Seahawks.
Here's what he said in the interview:
"I know me so I won't allow myself to even go out there and risk it all if they not having faith in me and a long-term deal. I just gotta protect myself and me and my family. That's the first thing. Like I said, I just don't feel comfortable just going out there without signing a long-term deal."
The six-time Pro Bowler also explained in the video that he grew up a Cowboys fans because he's from Texas and his dad loved the team too. That was part of the reason he got so excited and tried to holler at Garrett to come at him in the offseason. We will have to wait and see if a holdout comes to fruition or if the two sides can come to an agreement.
Thomas is entering the final year of a four-year, $40 million extension he signed after the 2013 season that made him the highest-paid safety in the NFL at that time. The deal included $25.7 million guaranteed, and he is due to make $8.5 million in 2018.
[h/t 247Sports]