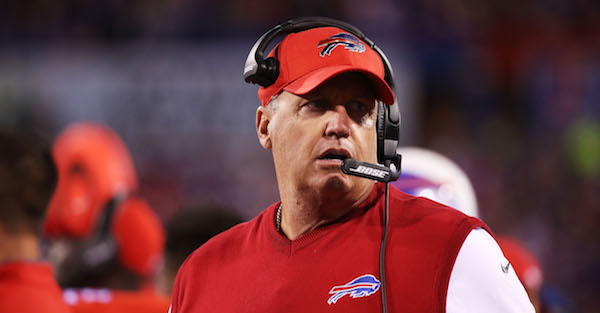 Tom Szczerbowski/Getty Images
ORCHARD PARK, NY - SEPTEMBER 15: Head Coach Rex Ryan of the Buffalo Bills walks the sidelines in a game against the New York Jets at New Era Field on September 15, 2016 in Orchard Park, New York. (Photo by Tom Szczerbowski/Getty Images)
One of the wildest personalities in sports today, former NFL head coach Rex Ryan, reportedly became one of the hottest commodities on the market.
Not for another coaching job, but evidently for a television gig. And he eventually opted to sign with ESPN.
According to Sports Business Daily, Ryan was sought after by CBS, Fox, NFL Network and ESPN, and he opted to sign with the worldwide leader.
The deal reportedly only is for Super Bowl Sunday, but apparently the idea would be ESPN is the front-runner should Ryan have trouble landing another coaching gig.
Over eight years, Ryan is 61-66 as a head coach, splitting time between the New York Jets and Buffalo Bills.