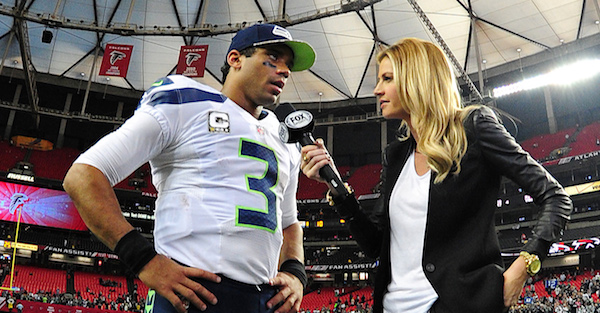 Scott Cunningham/Getty Images
ATLANTA, GA - NOVEMBER 10: Russell Wilson #3 of the Seattle Seahawks is interviewed by Erin Andrews after the game against the Atlanta Falcons at the Georgia Dome on November 10, 2013 in Atlanta, Georgia. (Photo by Scott Cunningham/Getty Images) *** Local Caption *** Russell Wilson; Erin Andrews
Erin Andrews, one of the most popular sideline reports in sports, announced on Tuesday her year-long battle with cervical cancer.
Andrews, a prominent figure in the sports world for her coverage of College Football and MLB while at ESPN before joining Fox's NFL and MLB team, detailed the story in a lengthy writeup, per MMQB.
According to the report, Andrews didn't tell her colleagues of her cancer diagnosis, flying home after Sunday coverage of a game. Andrews underwent surgery in October and two days later took a red-eye flight to Green Bay for her Fox assignment.
"Should I have been standing for a full game five days after surgery? Let's just say the doctor didn't recommend that," Andrews said, per MMQB. "But just as I felt during my trial, sports were my escape. I needed to be with my crew."
She eventually told her colleagues what was going on and refused to miss work while undergoing treatment.
Andrews reportedly received information that there would be "no need for radiation or chemotherapy" following the successful surgery.
Andrews, who covered the Atlanta Falcons-Green Bay Packers NFC Championship game, is expected to be in Houston to cover the Falcons-New England Patriots tilt.
Andrews took a step back from MLB coverage to focus on the NFL this year in addition to hosting Dancing With the Stars.