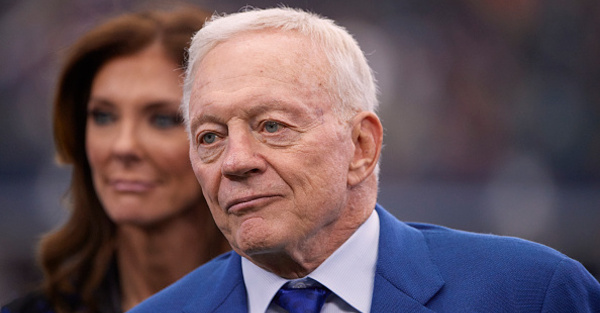 Greg Nelson, Getty Images
Football: Closeup of Dallas Cowboys owner Jerry Jones on field before game vs New York Giants at AT&T Stadium. Arlington, TX 9/11/2016 CREDIT: Greg Nelson, Getty Images 2017(Photo by One Dallas Cowboy is prepared to accomplish a "rare feat" in 2017) (Set Number: SI541 TK1 )
Richard Sherman remains on the trading block and many believe he will be dealt away from the Seattle Seahawks in a trade involving draft compensation. To that end, ESPN's Bill Barnwell put together a massive all-trade first round mock draft and Sherman was rumored to land in multiple places as a result. This, it must be noted, is a fun exercise that isn't necessarily based in true murmurs behind the scenes, but one of Barnwell's destinations for the All-Pro cornerback could potentially create a new favorite to claim Super Bowl glory.
That destination would be the Dallas Cowboys, who currently own the No. 28 pick in the 2017 NFL Draft:
The Cowboys are likely to be competing with the Seahawks atop the NFC this season and in years to come, and Sherman would be a major upgrade at Dallas' weakest position. If the Seahawks are committed to removing Sherman from their locker room, though, the Cowboys are likely to be interested.

You don't need me to tell you that Sherman is the exact sort of superstar Jerry Jones wants to acquire. The Cowboys would go over the cap by acquiring Sherman, but they've already created some cap space for 2017 by extending Jason Witten, and Dallas could convert most of Dez Bryant's $13 million base salary into a signing bonus to create additional cap room. The Cowboys could also offer Sherman an extension which would begin next season, as the cornerback enters the final year of his deal, and Tony Romo's massive cap charge comes off the books.
While acquiring Sherman would not "guarantee" favorite status for the Cowboys, it would be hard to argue the terror that it would provide for the rest of the NFC. Dallas did a credible job defensively a season ago but, with a blue-chip player like Sherman on the back end, it would be safe to assume real growth from a team that was already quite close to reaching the Super Bowl in year one with Dak Prescott and Ezekiel Elliott.
Cowboys fans are left to simply dream for now, but this would be fun and the impact would be far-reaching.