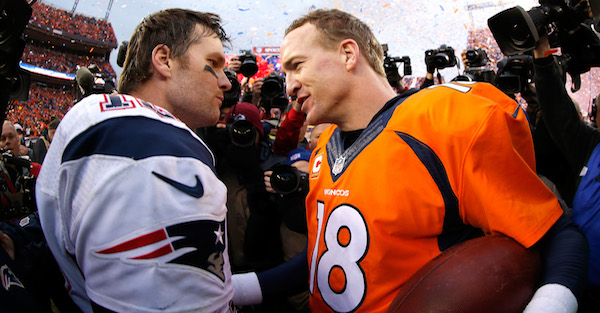 Ezra Shaw/Getty Images
DENVER, CO - JANUARY 24: Peyton Manning #18 of the Denver Broncos and Tom Brady #12 of the New England Patriots speak after the AFC Championship game at Sports Authority Field at Mile High on January 24, 2016 in Denver, Colorado. The Broncos defeated the Patriots 20-18. (Photo by Ezra Shaw/Getty Images)
Even though he's in a three-way tie with Hall of Fame quarterbacks Joe Montana and Terry Bradshaw for the most Super Bowl titles (four) in NFL history, Tom Brady gets the nod as the greatest quarterback of all-time.
So says ESPN's John Clayton, who adds that what the New England Patriots quarterback has accomplished this season—making the seventh Super Bowl appearance of his career despite missing the first four games of the season due to his Deflategate suspension and doing it mostly without top target Rob Gronkowski—is "remarkable."
Moreover, Clayton says, rather than begin showing the signs of decline as would be typical for a quarterback in the latter stages of his playing days, Brady has gone the opposite way, actually improving statistically over the past four years.
"Brady, who will turn 40 before next season, would like to play four or five more years if his body can hold up," Clayton writes. "There is nothing in his game that shows a decline. He came out of the four-game suspension rested and focused. He threw 28 touchdowns passes and only two interceptions in 12 games…and his numbers are getting better, not worse. Over the past four years, his yards per attempt have increased from 6.9 in 2013 to 7.1 to 7.6 to 8.2 this season. His interceptions have dropped from 11 in 2013 to nine to seven to two. His passer rating has improved each year, and he's staying healthy. So Brady is my pick for the GOAT (greatest of all-time)."
RELATED: Embattled former NFL head coach Rex Ryan lands surprising new gig
If Brady manages to win a 5th Super Bowl title against Atlanta Sunday, what little debate there might still be on the subject should effectively disappear into the ether.