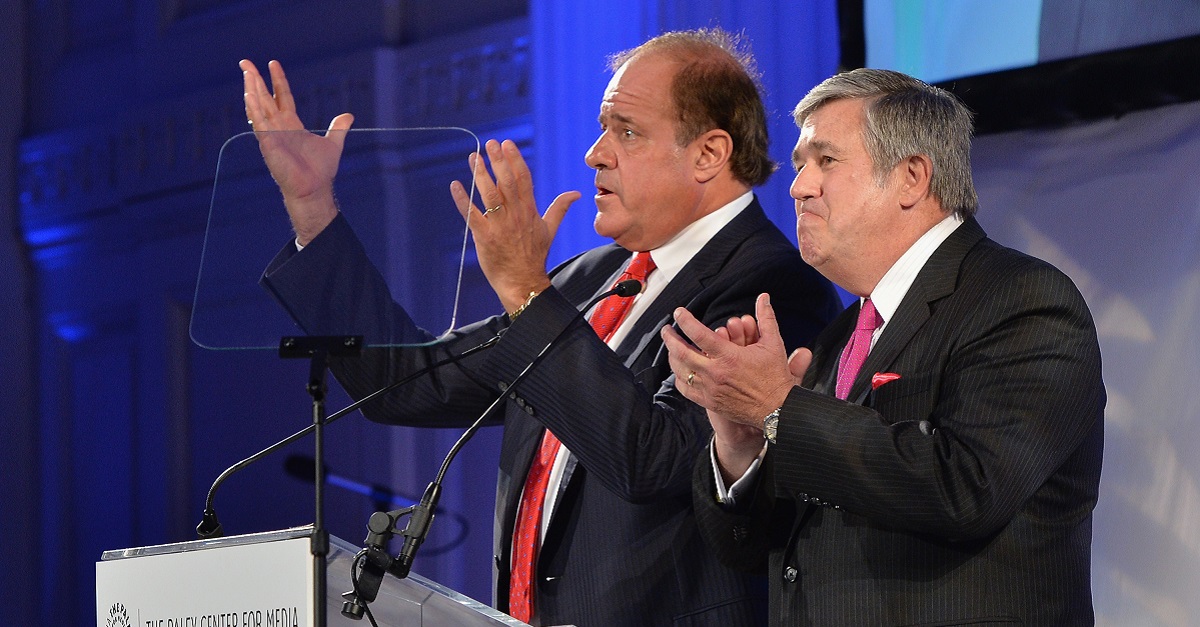 Larry Busacca/Getty Images
NEW YORK, NY - MAY 28: ESPN anchors Chris Berman (L) and Bob Ley attend the Paley Prize Gala honoring ESPN's 35th anniversary presented by Roc Nation Sports on May 28, 2014 in New York City. (Photo by Larry Busacca/Getty Images for Paley Center for Media)
ESPN has big shoes to fill after Chris Berman's departure from Sunday NFL Countdown, and a recent report suggests the company is looking for talent outside of ESPN for Berman's replacement.
Related: One of ESPN's biggest personalities officially stepping down from major positions
According to Michael McCarthy of the Sporting News, ESPN is looking at Fox Sports 1 host Charissa Thompson to take over for Berman next season. Thompson worked at ESPN from 2011-2013, and she currently hosts the "Fox NFL Kickoff" pregame show on Sunday mornings. She also co-hosts the celebrity news magazine show "Extra" with Mario Lopez and Tracey Edmonds.
Hiring Thompson away from FS1 would be an interesting move for ESPN management considering how much talent the Worldwide Leader has lost to Fox Sports in recent years. ESPN already poached Randy Moss from Fox last year for Sunday NFL Countdown.
Trey Wingo and Suzy Kolber were the perceived favorites for Berman's position, but Wingo could be in position to take over for Mike Greenberg on the morning radio show. Thompson has the experience to thrive on the popular ESPN pregame show, but stealing her away from Los Angeles and her West Coast roots might be a difficult challenge for ESPN.
(h/t Sporting News)