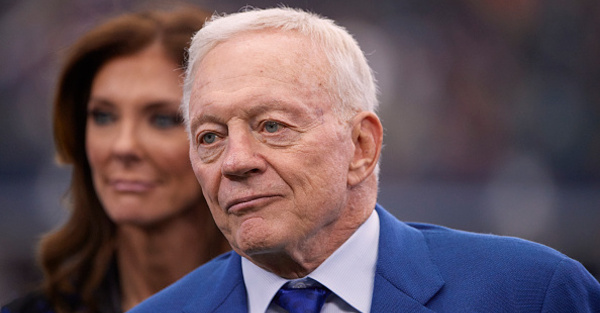 Greg Nelson /Sports Illustrated/Getty Images
Football: Closeup of Dallas Cowboys owner Jerry Jones on field before game vs New York Giants at AT&T Stadium. Arlington, TX 9/11/2016 CREDIT: Greg Nelson, Getty Images 2017(Photo by One Dallas Cowboy is prepared to accomplish a "rare feat" in 2017) (Set Number: SI541 TK1 )
There's nothing like an owner having supreme confidence in his draft picks to perform well enough to give his team a chance to win. That owner isn't Dallas Cowboys owner Jerry Jones.
While speaking with the Dallas Morning News, Jones admitted even he didn't see his Cowboys rattling off three wins in their first four games without Tony Romo at quarterback.
?I didn?t expect it,? Jones said, via the Dallas Morning News. ?I really didn?t expect it.?
After last season's disastrous four-win season without Romo for a chunk of games, Dak Prescott and Ezekiel Elliott are working toward equalling that total in just five weeks. And it's not just Romo. It's also missing key other members of the team:
?We?ve got a bunch of young guys out there,? Jones said. ?We know that we have some guys who will be coming back, but now to some degree we know we can win if they?re not back on time. This is a competitive league. I didn?t expect to do it without Dez, without our left tackle, without key players like Scandrick. It says a lot about our depth. It says a lot about Jason and our coaching. I?m really proud of those guys. They are doing a really good job. They are not looking back. They are lining up with literally who we have at game time. We warm them up out there. If they can go or if they can?t, we find out at warmup. That?s who is going to play.?
Just one year removed from having a top-10 pick in the draft, the Cowboys are arguably a top-10 team in the NFL. Set up for success in the future, Dallas could already be a serious contender.
We'll find out when they face off against the AFC contender Cincinnati Bengals on Sunday at 4:25 p.m. ET.
(H/T PFT)